i think i should do a proper blog entry..
What happen to him was definitely a shock to everyone because he was always very robust and there were no early symptoms for his illness.
the doctor diagnosed that he had thrombocytopenia, which is the presence of relatively few
platelets
in
blood
on tuesday, jordan vomitted out blood and fainted beforethe ambulance came. At the A&E the doctors found that he had a blood clot in his brain however they were not able to operate on him due to his low platelet count. he eventually went into a coma. then on thursday, the doctors annouced him brain dead. His parents decided to keep him on life support. But on sunday morning, jordan passed away peacefully
I known jordan since he was in year 1 because he was my freshie during FOC.
and i still remembered that i lost his necklance which was under my care during the camp. He didn't blame me although it had sentimental values to him.
Then comes gl interview. When asked why he wanted to GLs, he said he was inspired by the gls..and me as his welfare gl.
Comes gl training, we came to know Jordan is a very stubborn kid from there but at the same time we discovered his strong points were that he is very responsible and efficient
on a friends level, he put his friends before himself and he's always there to bring laughters
Its from this sudden loss of a friend that i see life is too short and too unexpected..
other than posting this entry in memory of jordan..
i hope those of you out there who read this, will start to treasure more
treasure yourself, people you care of and things that matters to you
because you'll never know what will happen the next day, hours or minute..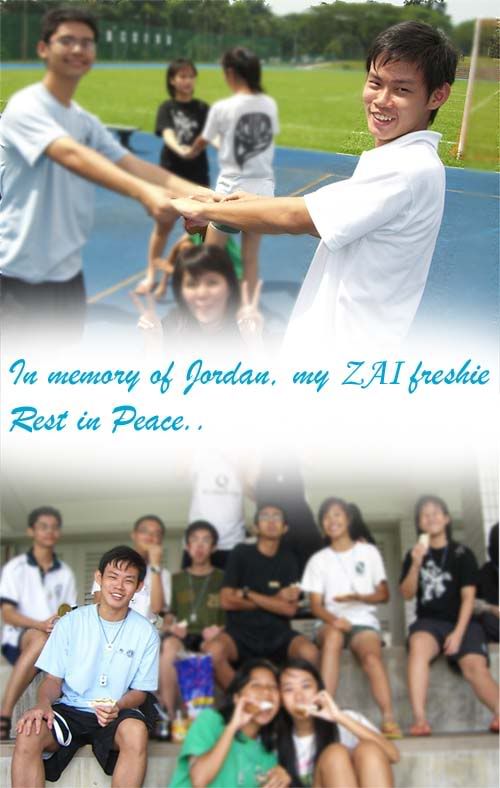 Rest in peace...
everybody, i know its hard but the world continues to spin and life goes on. Im sure jordan wouldn't wanna see us being upset and all. For now everybody please study hard for final exam although it'll b hard to put ya heart into it...