Selemat hari raya! happy new year to all Malays n u no longer hav to fast till i dunno whn. i spend the day with gene at my se watching vcd...wad a way to spend a public hols. N i fricking gt sick! lik finally! im not abnormal!
-cos it seemed lik everyone's getting sick due to haze but i din fall ill so i thot i was abnormal-
Gt a fever tis morning n last nite during full run my nose kept irritating me...feels lik the wall of the nose is filled with gooey mucus but actually there's nothing there la. And today happeneds to b jaei n zi xiang's anniversay...happy anniversary! Now, that reminds me...i haven do a post regarding this mth's anniversary..haha
GENE n I WENT TO THE ZOO! anyway, i notice smth. It seemed lik every couple has to go to the zoo. Whr go zoo? why cannot go bird park or underwater world or discovery center. It's lame...but gene n i still went anyway. The thing is i woke up damn early dat day to prepare sandwiches for him for it's worth it...he liked it..haha
took 138 to the zoo n as usual, i slp thru the journey..haha. As we entered the zoo, saw some pix of orang utan so gene try to act cute and...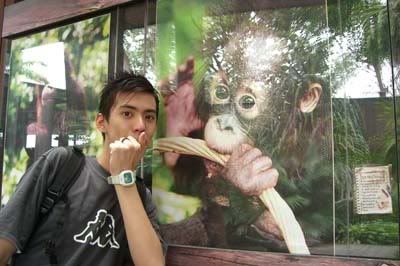 imitated the baby monkey..not cute at all!
and today i realise orang utan's hav very stretchable nipples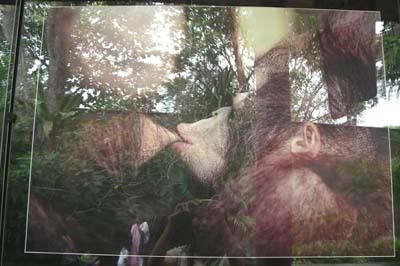 see i told ya so
started on this trail in the zoo n i saw mousedeer..so cute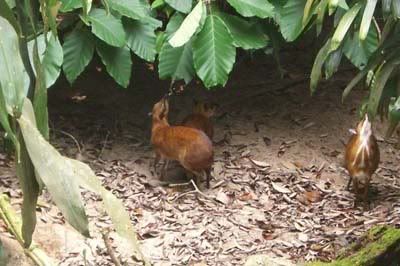 and then otters! doublely cute! but doublely stinky
on our way to see the white tigers, i saw smth n decided to b funny
oh no! the tiger's gonna eat me up!!
ok...not funny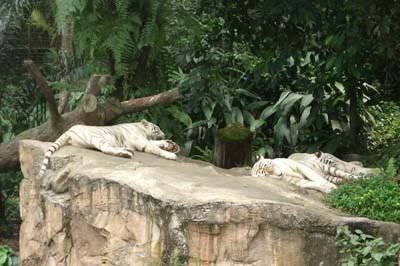 seriously i think all poachers and the illegal buyers shld jus rot n die now! due to all the hunting n stupid buying, more n more animals are getting endangered..do u know there's lik only 1000 tigers left in the world? n u can only see white tigers in zoo...not a single white tiger is left in the wild. how pathetic is that!? so ppl, when the buying stops, the killing stops too! save our animals!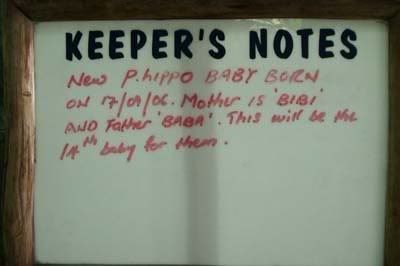 a pygmy hippo [endangered species] was born on my mum's bdae tis year...how cool! haha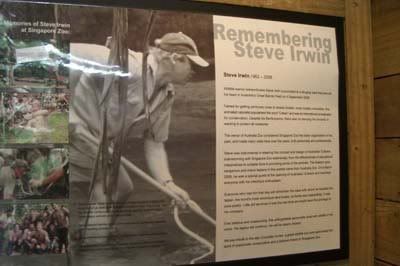 oh man...i miss him n his accent..bah...stupid stingray!!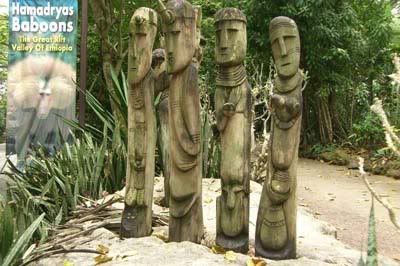 can u tell which is a male which is a female?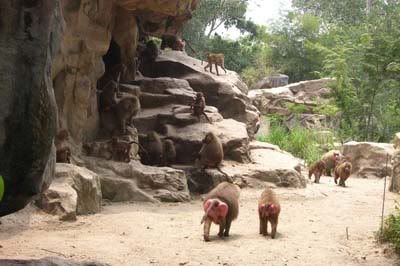 ang ku kueh bottoms~! i tell ya..some of the baboons butts lik damn disfigured. it's not nice n round lik u see in cartoons...some of them have lik dented parts or some parts seemed to b bitten off. n not forgetting, baboon stinks...gah!
gene this breed of monkey very handsome cos gt hairstyle =.="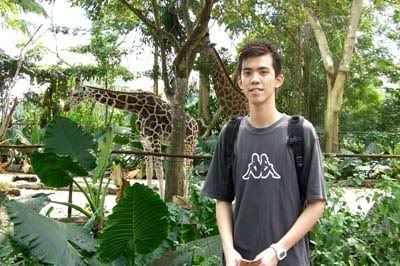 gene n his distant cousin..ahah. Seriously, the giraffes look shorter than expected. I tink it's due to the way they're breed. Compare to African giraffes, the giraffes in the zoo are way shorter.

Oh that day seemed to b very windy...so gene tried to b funny n wanted to take a pic that seemed lik the wind is uber big!

1st attempt= failed...can see hands
2nd attempt= chen gong! n the brochure only fell off his face lik 10 secs later..haha
had lunch at KFC then gene took out the jelly i made for him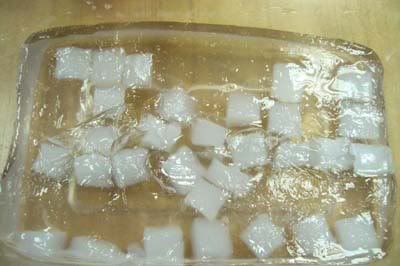 it was actually very nice looking with the surface all smooth...aft he take it out from his bag..the jelly became disfigured...grr~!

Headed for fragile forest aft dat. The place was damn nice!! cos there were loads of butterflies flying ard...so pretty!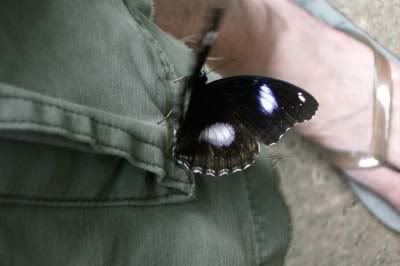 see this stupid female butterfly try to seduce gene by resting on his pants..haha
so pretty!
along the way we saw some lemurs lik jus stting in the middle of the walkway stoning. muz b bored i guess..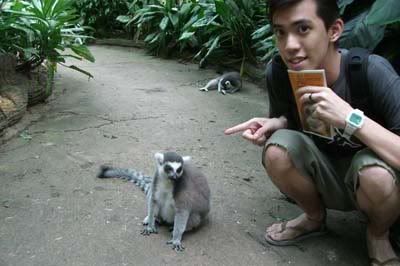 then as we walked further we so a damn daring lemur!
see! sit untill so flamboyant n can see it's member...! haha
and not forgetting, there were loads of giant bats there! lik so gross!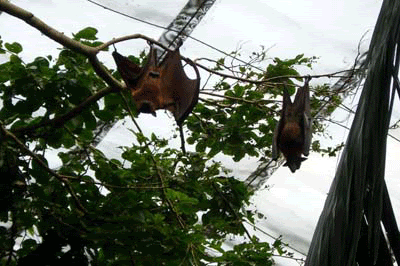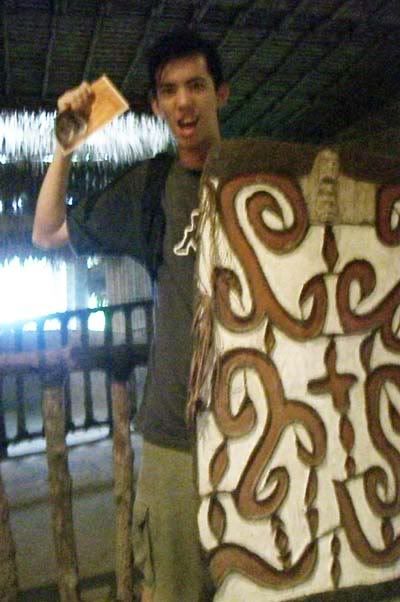 gene try to act warrior
oh then we saw more orang utan pix n decide to imitate them again
i tink gene make a better imitation =P
See hw ke lian this penguins are..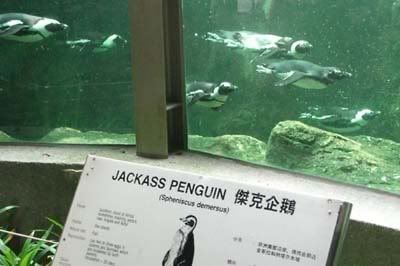 i'll feel sad if im called a jckass too..haha
n also...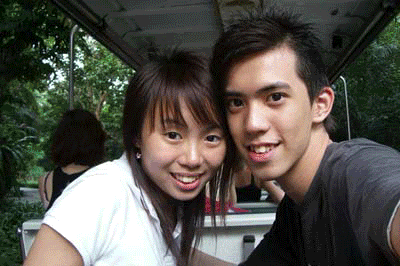 all the photos gene n i took together that day!
----------------------------------

NIcole's birthday

now i annouce koko crunch is 17 yrs old! haha. we actually had dance dat day but we stay till rather late. B4 i continue...i nearly gt murdered by a bamboo today!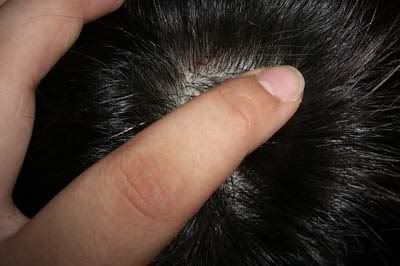 see the bloodmarks on my head..grr. what happen wad i was bringin the bamboo up but it slipped n dropped on my head. At that time i was wearing a bairband so that explains the reason for the holes.

ok bck to the main plot. That day we had dance n ended late..or rather we stayed till rather late so in the end only jaei, nicole, ronnie, lex n i went to kap Macs to eat. It was lik 11+ gonna 12am so we can't get her a cake then so i ling jing yi dong..think of good idea




It's actually 1 long strand of fries but 7 small ones poked into her MCspicy double n the fire of the "candles" is actually chili sauces...see...innovative rite...haha!

see wad that stupid lex trying to do..acting statue of liberty..haha
in the end we only left the place lik 2am..super late...mum nearly killed up i tink.
----------------------------
Ronnie's Bdae
b4 i start, see wad i made for gene for this mth's card!

message in a bottle!


That day i woke up at lik only 3pm then went dwn to sch to meet xing to celebrate ron's bdae cos ron was suppose ot have rehearsals that day..but last min cancel so i tink he went to sch for nothing.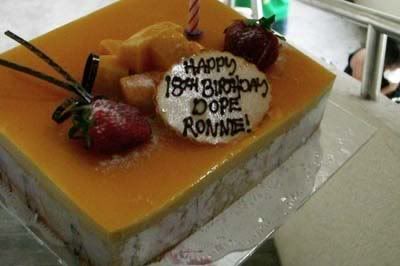 The dopist's cake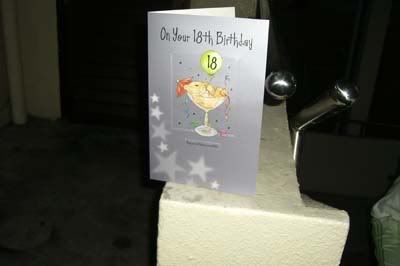 n the dopist's card



the dope wishes...actually gt more than this..is ltr than more ppl rite.

and so shuang...i whacked ron up 18 times. but that poor fella gt bruised cos his frenz will whacked him up lik crap.


see 18 yrs old liao so happy...cos everything legal...sians...when will b my turn sia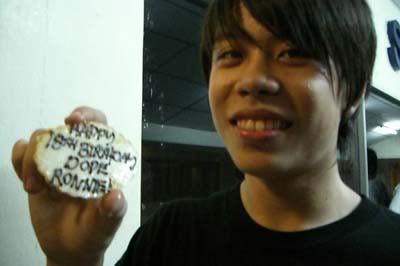 now u see it



now u don't cos it's eaten..haha

aft that the whole bunch of us went to vivocity for makan..ate at carl's jr. Then lex so funny cos he 1st time there so he dunno hw to order n i had to order for him. I ate portobello again n beef fries..i din finish everything cos was tard full!

i gt bo liao n made ron n oreo take pic.




suppose to look lik ore chop off ron's head but effect not good la..gah

we went up to the sky park aft dat to slack. seriously i tink lex n i damn suay. cos we were walking to the toilet..suddenly lex grab my arm -yes...damn pain! cos i've gt muscle ache- n signal me to look ahead. Then i saw our seniors then wah high~ wanna walk bck then the stupid lex kept holding my arm then tell me dun so excited in the end he himself ran back to tell the others wad we saw...wth! then i suffer pain for nth..grr.
We starting playing with the lights cos bo liao ma..n behold...vivo city is haunted!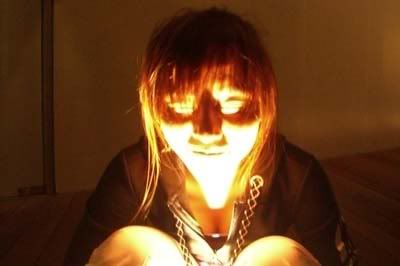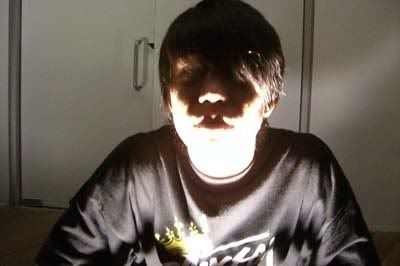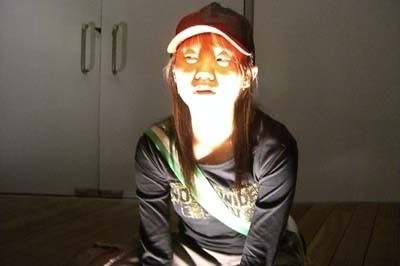 actually i doubt we're ghostly enuff la...gah.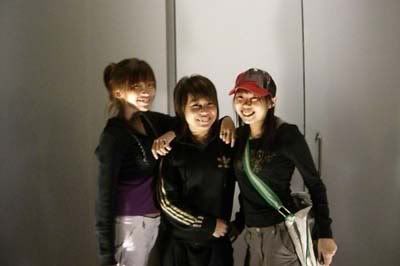 me n my fave gals in nra!
Jus b4 we left, jaei, nicole lex n i went to play with water at the fake beach. b4 dat when only jaei n nicole went to play, jaei fell down and her whole pants gt wet..haha. the 4 of us kept wading in the water then realise we still ahve to catch the last train then hurried to dry our feets n left the place.
i reached home late again la..but mum din scold me..haha...shuang!