It's lik super long since i blogged i know...but, damn busy! IPC tutorials, Maths MOL [TO HELL WITH MATHS!] , IPC end-of-year practical exam and physio CT2..it doesn't pay to b lazy ppl, IT DOESN'T PAY! but at least i'm smart [despite the fact i'm not mathmatically inclined] because i finished all my IPC tutorials in 1 day, it's 11 whole worksheets ok! hmm...actually its 10 cos i was so tired last nite n my left eye was aching badly, i went to slp at 3am, leaving tutorial 10 unfinished.
ANYWAY! more importantly, i'm not sure about other polys but NP is fucked up in the sense that any course that is maths-based [actually all the course except those from sch of FMS] will have to do this MOL thingy. You basically solve maths questions online but that fricking drove me crazy! u noe today i screwed 2 whole hours n only completing
2/3
of a revision on
1
topic. Btw, each revision is bout 9 questions. The worse part is, u have toget 3 question correct consecutively else you'll have to start all over again..FUCKED UP RITE!?!?!?!? damn i don't think i can even dream about passing maths this sem. So gonna say hi to maths again next sem n hi again to my old friend MOL [screw MOL!!]
the only good thing that came out of the whole busy period was i'll managed to B my physio CT. *sigh* i jus love physio n microbio. Enough of study talk! PPL! go watch
HAPPY BIRTHDAY
if u haven watch it. Kindda lik ur typical love story but i think the plot was dope! One of the few movies that made me cry ok!
AND AND AND! has anyone been watching the 7pm show on channel 8? i dunno the english title but the direct translation of the chi title is
Dreams of fireflies
ok wadeva. My main point is...there's this guy call Leo in the show rite?
WAH KAO WAH LAO WAH PIANG N MORE WAHs! THAT GUY IS A FUCKING BASTARD!! BASTARD!!BASTARD!!BASTARD!!BASTARD!!
wah i see already also no eye see. The Lau Sai See also very stupid, dunno hw to call police one then the 2Chicken damn ke lian, keep helping the stupid n the girl reject him...STUPID!! Back to the topic.
LEO IS BASTARD!
is the producer for real that there are guys lik that out here in SINGAPORE!? i know they are guys who fuck-and-ditch but exploiting the female...REALLY MA!?!?! the gal also damn cock, take her nude pix still can smile then the Leo still wad...XCHANGE SEX PARTNER!?
WTF!!!
Seriously, i already bth guys who fuck-and-ditch, and yes i do know friends lik that and yes, sometimes i wish i can kick the nuts out of them; cut their reproductive ducts one by one, 1st the vas efferens, then the epididymis, then the vas deferens, then the ejaculatory duct. That will still leave them their nuts n penis but it's jus a useless set of organs. But now...guys lik Leo!? if i ever come across guys lik that, i wun jus cut their ducts, i take i wear a pair of rubber gloves n pull off their nuts n penis there and then with my gloved hands and make them eat it. I know it's jus a show but there's this chi saying with the meaning lik show comes from real life..so bound to b guys lik that rite..
KNN!!!!
smash their fucked up brain!
Really, i can tolerate anything but i can't stand guys who exploit the female [and ya i can't tolerate maths too] I HATE and DESPISE guys lik that. In my opinion, they're the sex-minded version of MCP. MCP are jus men who think they're more superior than women. Sex-minded MCP are men who think their superior because they hav a dick and are less embrassed to b exposed of their sexual lifes hence abusing women sexually cos women sure lose out one. So LADIES! LISTEN UP! it's the 21st century but don't believe in the saying that girls shld take initiative in starting a relationship too. Because if girls take initiative, guys tend to treasure the girls lesser cos they neva know they difficult process of chasing you.
In the case of my fuck-and-ditch frenz rite, girls come to them easily, they don't need much work to make the girl theirs. N you watched in the show, Xishi was lik throwing herself at Leo. So girls, no matter hw desperate or hw love-deprived you are, neva throw yourself at guys or let them have the easy way to get you. The longer they take to chase you the more they will appreciate you. If the guy give up chasing you aft a short while, that guys is not worth it cos if he loves you, he'll go to all lengths to move your heart n make u his. Smarten up girls, we're suppose to be the smarter one of our species.
So now i've said my piece, i swear if i see the actor of Leo on the street, i tink i'll thrash him. He's jus an innocent actor but well, his acting's too good, i can't stop thinking he's lik that in real life
I guess i wun b blogging much till my exams are over, but come to think of it, my funkamania practise will follow,,,shall see! In the meantime...ppl who watch The Dancefloor, SUPPORT
GROOVE AVENUE

and

SNAAP!
and now...maths...ARGH!
currently i'm feeling: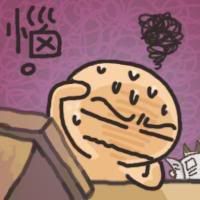 Because of maths
and
i think i'm down with a cold...stupid weather