You know when you're still a kid then everytime 1st day of school you will cling onto your mum and refuse to go into school?
i'm seriously feeling that again.
oh...my..god..
and my timetable sucks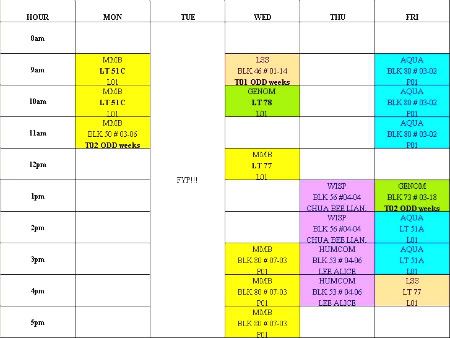 i hate the breaks! anybody same breaktime call me!
anyway now u all know my timetable...
PLEASE ! FEEL FREE TO DISTURB ME!! SERIOUSLY! except fot times when i have practical..and that will be last 3 hours on wed and first 3 hours on fri.
really pls disturb me else i think i will die
and my classes are all over the place lo! heng only happens in odd weeks
but still school sucks.
i think it's just the thought of having to do fyp that made everything sucks...dammit
enough of sch talk!
finally went out with caryn nikki and denyse today!
nikki jus came back from japan *envys*
oh at bugis village...caryn and i tried on wigs. and i decided....
i seriously cannot cut short hair!!!! my face look damn round la! thks to my high cheekbones..dammit!
caryn mentioned smth today which i also just realised..
we hang out so long...we still manage to keep our own style ..
you can't really see from this pictures but i'm glad we are different lo. You know how sometimes u see a bunch of gals hang out, then everything from their hair to their bags to their fashion sense all same! like clone like that wth!
was suppose to go Aston's for dinner cos i craving for the pasta and potato salad..in the end we went ramen-ing instead cos ramen cravings at stronger =D
while at ajisen, we were on the topic on relationships. Seriously i dunno is it seasonal or wad but everybody is having trouble with relationships now. One part of the conver went lik this

caryn: i think puppy love is like very pure
nikki: ya! lik sec sch then lik pass by the classroom...

*then nik n caryn con't talking bout r/s in sec sch lik so dan chun all
this*

me: i never experience puppy love lo
*yes in sec sch i only secret admire ppl and kena reject only..how
sad*

caryn: nvm u still do in poly wad
denyse: ya la! i think by the time i fall in love will be "OLD BITCH love" le lo

ok maybe u all don't find it funny but it's really damn lame haha
and caryn is so sure that i'll get attached again in time to come -_____-
where gt so easy!?
plus my basic requirement is he
must have strong passion for dance
also
how many passionate dancers are there in singapore?
and other than that i also DETEST smelly,untidy and messy guys
i wun even mind if he's a neat-freak or man-vain lo..at least it means he care bout how he present himself to others
and i don't lik buff guys
so what are the chances i do meet neat-freak skinny dancers that looks passable soon?
ZERO!!
ok not gonna say anymore...else i sound like i really looking for bf lik that..sheeshz


in anyways..i'm just gonna enjoy singlehood and dance. finish my goddamn diploma and fly off to japan for a year to dance then heng heng get a japanese bf *zi high*
it 1.20am now...seriously no feel for school...dammit!