damn...fricking procrisinated. not 4getting my com restart on it's own once b4 i can save it n my mum
delibrately
off my com b4 i save it too...i was lik so going finish and now i hafta re-type
everything
..fuck it. [side note- she din even apologise...jus kept blaring at me! FUCK FUCK FUCK!]
keep calm..i'm the great JUon ze brat...incoherent ppl wun get me...bah bah bah~
anyway..it felt gd not having to report for work so early, especially when i've worked the nite b4. Snappers didn't nid hostess for b'fast reception so all of us reported at 10 except for yy who report at 8! wahahahahahahahaha~
i was lik so hyper! part of the reason was i was nearly late [thks to my mum..AGAIN! fancy starting a quarrel early in the morning over trival matters..chew!] n dat kan cheong-ness made me hyper...waahahhahahaha! others were lik preparing for brunch while i was...
_____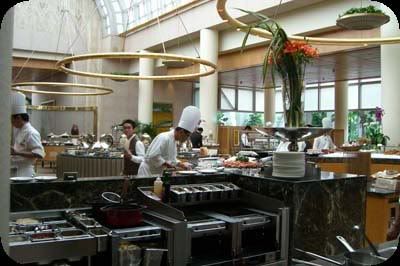 busy snapping pix! but most of 'em turned out bad so..BAHZ! i was lik smiling away n talking non stop...wahahahaha. luffed my ass out when gene came up to get his bunny costume. I was picturing a pink fluffy sibeh cute rabbit but it turned out to b.. '
_____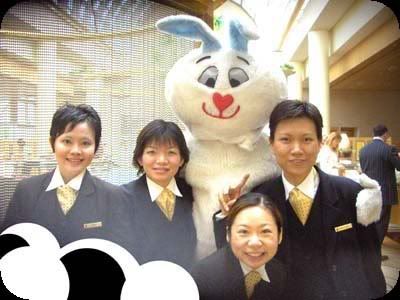 a real Fugly one! so disappointed! btw, dats ricks, apple aka sarah [supervisor], yy n cheryl [manager]. adding on to th fugly rabbit, mos gst came early so gene went ard entertaining the kids as the bunny mascot of course. MOs found the bunny cute [note! i'm stressing on the bunny!] but a couple cried when they saw the rabbit...hahahhahahahaha!
ricka was giving out chocolate eggs n bunnies to kids! i managed to take a pic of a bunny..
_____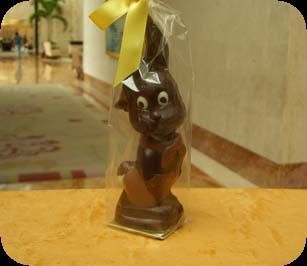 not cute enuff though. at the end of the brunch, dere's wasn't any left! so i can't even kop. Hafta ask pearlin for one and she gt me a cuter n bigger chocolate bunny..not forgetting it's white chocolate toO! but i din gt a shot of it b4 it gt mutilated...bleahz!
speaking of eggs....look at 'em!
_____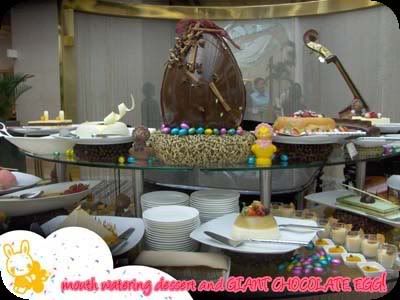 _____
they're lik so huge n made of chocolate! i want ! i want! i want! especially the white chocolate! who cares if white chocolate are more fattening! wahahahahaha~
Brunch starts! gd thing there wasn't any fuck up gst who were fussy bout their seatS so everything was smooth~ at least for the 1st seating. the fugly bunny was walking ard entertaining kids but suddenly he jus disappeared! he was suppose to go on the egg hunt wiv the kids i heard but mia-ed then. btw...even ur mum doesn't agree dat ya cute gene..haha!
when 1st seating gonna end in 1/2 hour time, ricka n i had to go dwn to floor to turnover for 2nd seating. kan cheong kan cheong..it's lik only 1hr to clear n set tables n place finger bowls n champange floats. Exactly at 1.30 some gst were seated n we were still setting up...bahz!
for 2nd seating the bunny did appear n i snapped a few pix too
_____
_
kids going on egg hunt so yy was giving out baskets to 'em ..
_____
_____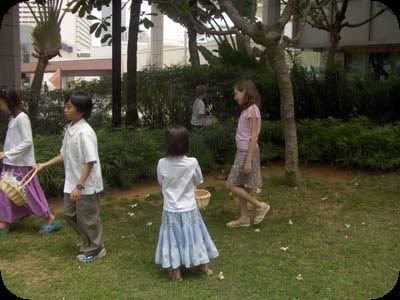 it's lik so good can to go on egg hunt...they came bck with loads of chocolate! i also wan~! ROAR!
oh ya...not 4getting...
_____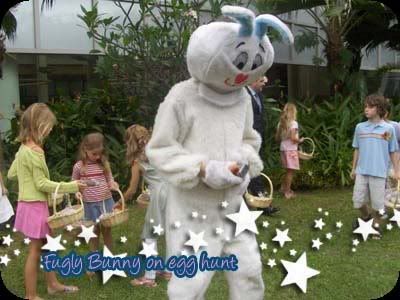 the
FUGLY BUNNY
! ahahahahahahaha~
okok...i shan't b so bo sim. gene was lik very ke lian being the bunny mascot is it's ass hot in it. Cheryl made me bring skyjuice for him so i gt a super cold ice water n went to garden room to pass it to him. he was sweating lik...i dunno...lik aft running a 5km marathon or more than dat.
and he's hair damn funny...ahahahahahahaha! ok~ so i stop poking fun of him [oh ya...he poked me with his stupid carrot...bahz] n went bck to greenhouse n i went on floor to do service. dun wanna go home so early u see so i can earn more too...hehe~
signed off lik ard 4 then pearlin made caramel dougnut with strawberry ice cream for me...so nice ~ while i was enjoying the dessert at the back alley of the kitchen, gene called me...then i rmb-ed i was suppose to borrow hp from him to use during camp...hahaz!
so finished up the doughnut thing b4 going dwn to his mum's office to get it frm him. Crapped a lil b4 i went to wash up b4 meeting him agn. We were lik walking aimlessly ard..thks to me! cos i din wanna go up to my cousin house so early but i have no idea whr to go...bleahz. so we wondered ard n went to cine...jus to eat the hot dog thingy...damn lame. plus it was fricking raining but we jus walked in the rain anyway. In the end we took the train back n fro from marina bay so ended up quite late at my cuzzie's house.
then agn, din stay long at her hse cos i nidda go hom n pack for camp the next day! i hadthe intention to run away halfway from camp by feigning sick but cos i had so much fun i ended up missing camp! KRAKEN WE RULE!
Kraken is our grp name n we consisted of 22 ppl initially but some ppl left n we ended up with 16 ppl rite till the time we break camp.
here's some introduction of my fellow campmates!
our siao on GLs!!!
-
sharon
..she's as gd as our mama...kept taking care of us...also kena bully by us
-
ervia
...food com!
-
amanda
...game master aka xiao lai jiao [chili padi]
-
Hong Kai
..the chao sia one [becoz of him we made fun of a cheer]
last but not least
-
Eugene!! Lao De
[but we call him lao der-old pig] as gd as our daddy!
*note* gene n sharon has no one leg [mei you yi tui]
Fellow
CALAMARIANS!
-
gabrielle
..the noisy noisy one [same as me]
-
karen
...the quiet quiet one
-
poh chuan
...the bbm one
-
eric
...the bbm two
-
donald
...the physics kia one
-
angie
...the sunshinny one
-
ck
...the ren bu ke mao xiang one [look quiet..but quite siao one]
-
richie
...the rather quiet one
-
alvin
...the damn on one
-
qian yi
...the daring one [becos of nite walk la]
-
rina
...the cute cute one [cute cos of her ht...cannot say short...lol]
-
yong shun
...the loud loud one
-
zul
...the act gay one [he's gd at it k]
-
hong hao
..the mi mi yan one
-
hui ting
...the big butt one [a bit bad lei...nvm]
-
jia jun
...the ok ok one [psps...running out of ideas]
-
Kelvin
...the black black one
-
aisha
..the 1st one to leave us one
-
melissa
...the 2nd one to leave us one[oh man...no ideas can]
-
joe
...the nato one [ya...i dun lik him..bleahz!]
-
jason
..the mascot one [he acted as our mascot la]
and of course....
-ME! the sibeh hyper one!
and in case ya wondering why dere are so many "xi shua shua" msg on my tagboards...those are by the calamarians! we are calamarians becouz kraken's mascot is a calamari! hahahahaha! so krakenians pls look at the "one" list above...not happy with ur "one" msn me then i go change...hehe~
i'll try to post up camp entries asap! stay tuned!