Yes i know im suppose to blog bout FOC bout seriously im still waiting for more photos!! it'll b a photologe i tell ya. But anyway sch has started ystd!! n i pon-ed my 1st lesson of the sem..lol! But i pon it for a gd reason ok. I WENT TO SUPPORT MY CHI DANCE JUNIOR FOR SYF!!!
wah seriously man, the kids hav improved a lot since the last time i saw them, which was lik almost one mth ago. Its lik last time mos of them the timing were off, no expression, 4get steps...but now, everything damn nice!!! kindda miss the times in chi dance, i miss gymnastics!!! i also miss all my bao bei juniors, adorable bunch of kids, especially my 2 god sis, both uber hyper man. Mos importantly i miss syf practises. All the bruises we get, all the tears we shed, n the feeling of getting gold award...damn shuang!! Well, my time is over, its time to pass on. AND my junior was telling me
"wai see jie, u so totally not chi dance now lo,u are too hip hop liao"
i hav no idea whether to b sad or happy...gah!!!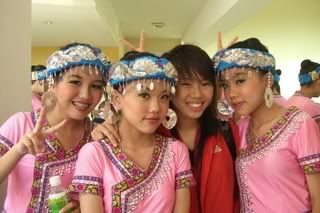 yup i hav a pair of twins for god sis =) the gal on the xtreme left is another of my juniors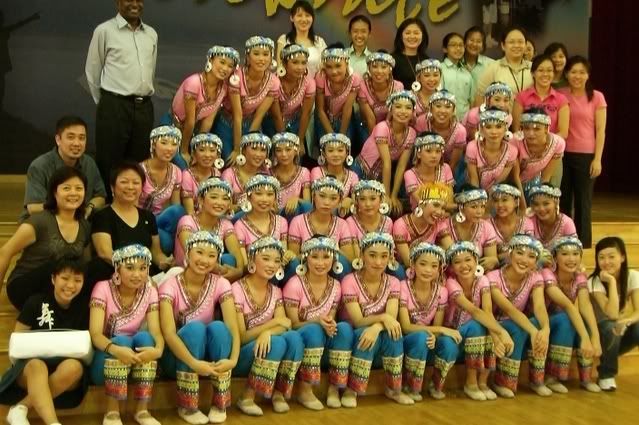 i love my juniors n the teachers!!
actually ms teo n mdm tan la...the rest are new teachers. Sad, mdm zhang wei left the sch T_T
SYF was held in NUS' UCC. So proud of my juniors man!!! cos while performing, i could hear ppl ard me giving comments lik
"omg, their dance damn nice la!"
or
"wah, so neat n gt stunts sia"
so happy for them!!! i haven noe the results yet...suppose to get today i tink, nvm guess i'll msg my juniors tmr
And straight aft their item was over, i rushed cab down to sch cos afternoon still got Biochem practical. Wah i tell u, karen n i damn pek chek during biochem pract. Our teacher was dr forday
ok b4 i con't, i decide to call forday smurf in future post. Cos he was telling us today during lect that he will go read student's blog one. He even googled it, but come out one whole list of porn site...damn funny. but so anyway, from this moment onwards, dr forday wud b known as smurf so he wun b able to google to my blog. Reason of him being smurf becoshe looks lik one. Small lil man. The only difference between him n a smurf is a smurf is blue n smurf dun speak wiv a strong australian accent.
ok bck to it. Cos karen n i were teamed together for pract grp, n for our experiment, we hav to plot graph. Halfway doing the experiment, we accidentally done something to our diluted chemicals then hav to re do a few test tube. Then cos the graph is not best fit so me n karen decide to b lazy n change numbers so they will fit. Skarly, kena caught by smurf, then he nag at us then ask us re-do everything again....super sian can!!! Then in the end "manage" to get the stupid graph.
Oh today had wong yet ling lesson. Actually i wanna pon de lo!!!! then AGLs keep say say say, psycho psycho me then in the end i decide to go. Go dere sian only lo. N wong yet ling talk funnily, cos even gt freshie complain dunno wad the hell she saying sometimes...lol!!! gd news is...I DUN HAV TO RE-DO ALL MOL!!!so shiok!!! lol
n i missed nra!!! today jus had my 1st lesson in 2 wks due to FOC. 2 wks enuff to weaken me, my stamina kindda dropped. N my ankle have recover. I kena owed somemore, ann din noe my leg injured then she put me in a technical-based item...damn high lo! cos i can't even turn properly on my left side...gah!!! overall dance pract was fun la!! lol
man im so gonna slp, i kept dozing off n type funny irrelavant stuff...tmr start at 8...uber sian!!!