ok...it's been lik one week since i blogged cos i've been busy busy....ok ok...the truth is i'm a big time procristinator so ya. But i've decided to blog cos someone has been bugging me too!! so here i am lalala-ing. Anyway if u've noticed, the
"levis 599"
is striked off. that cos gene gave me that for 1-month anni and besides dat, he also gave....
can see the elmo at the corner...cute rite! and at the bck ...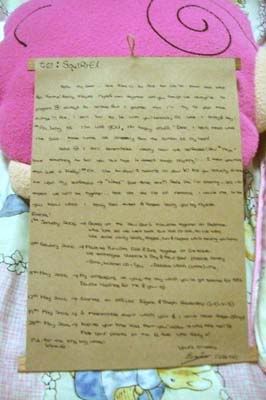 oh ya gene...not a lot words la cos doesn't meet minium essay standard...jus 225 words only...hahahahaha! [ya i actually counted...bleahz]
and wad i gt him? haven prepare finish yet! actually half done...mine mre chim ok...we will see very soon la...haha!
and and and! let's all welcome the new member of my life...NOKIA
8350
3250!
Whr did my razr go to u ask. Well, it has a new owner and dats my mom. i seriously felt lik removing the diamnates n allb4 giving her but im jus lazy...haha! come to think of it, i dun my razr was even
3 mths old
but hack, i love my new fone now! i've been wanting to get it for ages then gene gt it 1st! and now we're using the same fone...ahahahahaha!!
And as mentioned b4, i was away for 3 days of dance camp and during that 3 days, 3/4 of the time we were dancing and hence i gt bck my abs! ok...not really abs. i jsu a gt a flat n firm tummy...haha
Day 1....
Met up wiv david n had mac for b'fast b4 heading to sch. was having a cough but hack...l missed sausage egg mcmuffin! There was a lot waiting b4 we were serperated into diff grps. So sad i din get into Luping's grp but David n i ended up in the same grp la! joining us were jaei [J.E.], kai feng, ying wei and xiao tian[tian] and our GL's zi xiang n wei zhong. Moved to bunks aft that whr we slacked a lil b4 ice breakers. Oh yea...i 4gt to mention our grp name's Funk Soulz [zi xiang's grp name during competition]. Meanwhile, zixiang left halfway for work, leavinf us wiv wilbert, who's goddamn funny, made us luffed lik crap
Funk SOulz jr.s. David looks lik monkey with small eyes! but to convince us he doesn't have small eyes...
ok...quite big la...haha
the gurls~
and the guy~
then aft photo hogging we were rushed down to the tae-kwan-do area for ice breakers. During this game, some catching or stuff, quite sian for me cosi din get to run much while others were lik running lik mad n screaming ard., Wilbert screams made everyone more kan jiong cos everybody luffing thn get distracted...lol
think we had lunch aft dat thn ice breaker again. Later aft dat was some talk conducted by Ann, our instructor, bout dance. Had to surrender our unwanted clothes and ranking our top 3 fave artists among 10 for performance b4 having dinner . Funk soulz damn sian la...as in it's lik only a few of us are in our own world...din really talk bout wiv our seniors though...unlike lsct camp.
went bck to the lect theater whr we had our talk thn Ann started her make up n hair course..teaching us hw to do our hair 4 performancese. aft dat we gt seperated into our dancing grp. Jaei n i gt into BEP [fergie]'s grp. David was rather disappointed cos he wanted to get into Rain's grp rather than JJ Lin's. oh, we gt bck unwanted clothes, which were cut, shredded, mutilated in short n we hav to make our costumes out of 'em...bah!
went bck to our bunks in our dance grps to discuss our dance steps...till very very very late b4 we went to bathe....WATER FRICKING COLD!!!!!! i missed hot steamy water!!! fell aslp straight aft dat cos damn tired. BUT BUT BUT! the air con was fricking cold n i had to get up in the middle of the morning to put on track pants. Why dun slp in the slping bag u ask. Cos we are not selfish ppl so we opened up our slping bags so all of us can lie on the spread-slping bags...floor very stinko u noe...haha
Day 2.....

aft only 4 hrs of slp, we had to wake up and go for campus run...bah! and i lost my voice! so irritating can cos my voice was li kso disgusting...damn sexy...very manly....ew~ but as we were in reporting, we were punished, 30 push ups....bleahz! then we ran ard blk 16 n the track. tink my stamina dropped a whole lot cos i gt stitches pretty soon which wasn't very painful though. Had b'fast n i ate myself. Ok actually we ate bread la but everyone in NRA calls me mian bao [bread] now...haha
we went to change b4 practising our dance agn. Spend the whole aftnoon chereographing n practising our steps b4 we had to prepare for rehearsals.
Did our own make up. Which i sucked in cos i look lik a squirrel....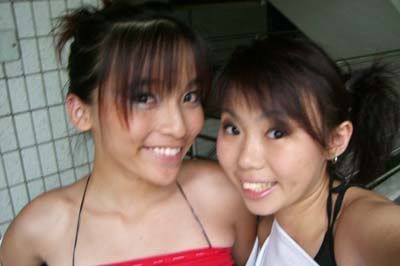 SHUT UP! i jus suck in stage make up k! casual make up i'm ok can....ROAR~~~
The alumni seniors came and they danced...damn nice k!!!
*warning* take bloody long to load..but it's worth the wait
see...told ya. And in case u guys dunno, daphne khoo of "idol on demand" is also frm NRA so she's my senior...muhahahhahaha! btw, nra's gonna hav a production on 5th nov and daphne will b dancing n singing for dat day so if u wanna watch the production...stay tune to my blog ya
started rehearsals. Ok...we totally sucked...cos we 4gt our steps n we din try stage so kindda congested and stuff. Pei ying was lik damn disappointed, i tink she was kindda pissed too cos she made us a dance 2 by 2 to make sure we rmb-ed our steps. Jaei n i jus passed la...n we con't to practise on our own. 2nd time rehearsals...not dat bad...but still bad la. Got kindda pissed myself so we ended up practising to the wee hrs aft rehearsals was over n bathed late agn....cold icy water....bahz!
was goddamn tired but still stayed up n talk cock wiv other freshies n zi xiang too b4 all of us bth wanna knock out and despite my voice, i kop-ed kai feng's fries cos she ordered mac..haha!. All the funk souls jrs being gd kids brushed our teeths b4 we slept...all of us went to the gals toilet...when i say all...i do mean ALL...including david...haha! our senior terrence pass by the toilet and was kindda stunned to see david in the toilet..hahahahaha
air con broke dwn but we din suffer frm heat stroke either cos it was a cooling nite plus we were too tired to bother bout whether it's warm a not.
Day 3.....
PRactised dance steps again n had b'fast. Then yoga session. Mos of us fell aslp during the session...hahahhaha! then lunch n preparation for performance...i sitll look lik a darn squirrel....wadeva.
3+ performance. If u wanna see our performance, jus type "NRA camp" in the youTube search bar. THe winning team was Boa's but i personally think dat Rain's is nicer.
Loads of pictures cos all of us cam whored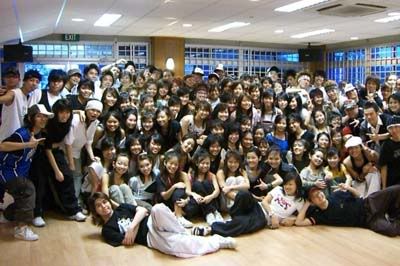 All 100+ of us! bet ya can't find me...hahaha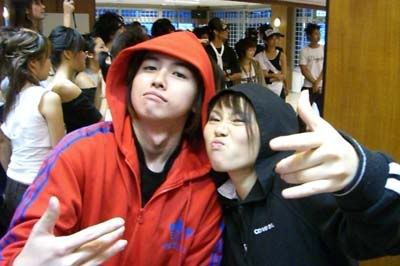 Ken n i...oh shut up...i noe i have screwed up face..lik so...lalalalala
Funk soulz without wei zhong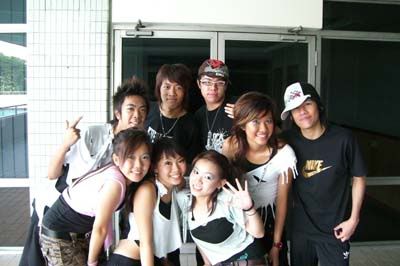 FUnk souls with wei zhong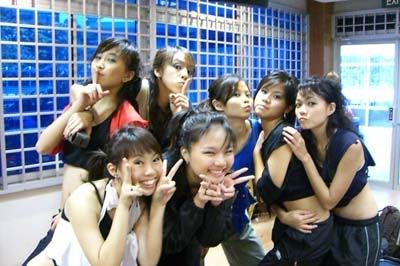 Fergies~
did i mention taufik's is NRA too? jus kiddin...dats jus shafik who looks lik taufik
dats ivan...i tink if he get fitter..he'll look lik rain! so gals...i tink he's single n available...maybe~ doesn't concern me anyway cos i hav gene...ahahahahaha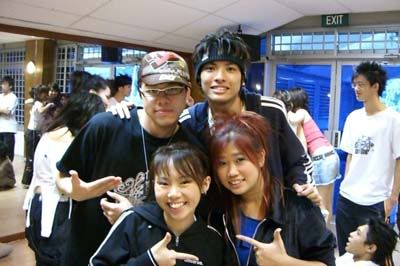 wei zhong, ivan, me n rino
ying wei, kai feng, me. Kai feng wonbest female make up award...hahahaha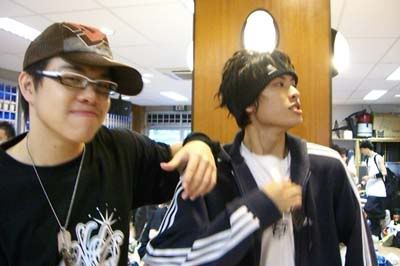 dunno ehz...but i foundthis candid shot very nice...hahahahah. i tink ivan is doing the "ssssss~ ah~~~" thing in rain's dance..lol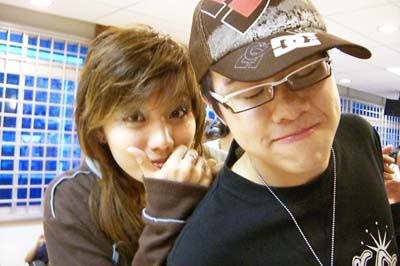 qian yan n wei zhong..qian yan quite cute...n she's tall *looks at myself...sigh*
zi xiang, ying wei n i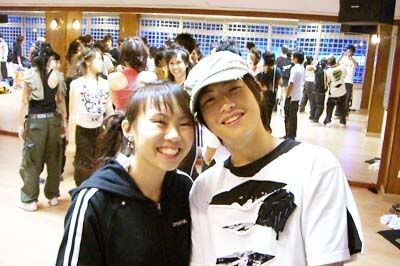 ben looks lik korean boy here but im jus making fun of his small eyes here though...lalala
went home 1st to put dwn the ever heavy camp stuff take a shower then went ta meet gene. suppose to b our 1 mth anni but i was lik fricking tired n sian-ed so we ended up going home pretty early...lalalala