Yea im bck! for the past wk i was busy playing neopets, dancing n hanging wiv gene. Lik so many things to update but can't rmb =.="
Dance camp was great! I mean all the freshies loved so it's a success. Highlight for 1st day i guess was the nitewalk. Really appreciated everybody's effort that day. Alex n Ronnie for being the sadako twins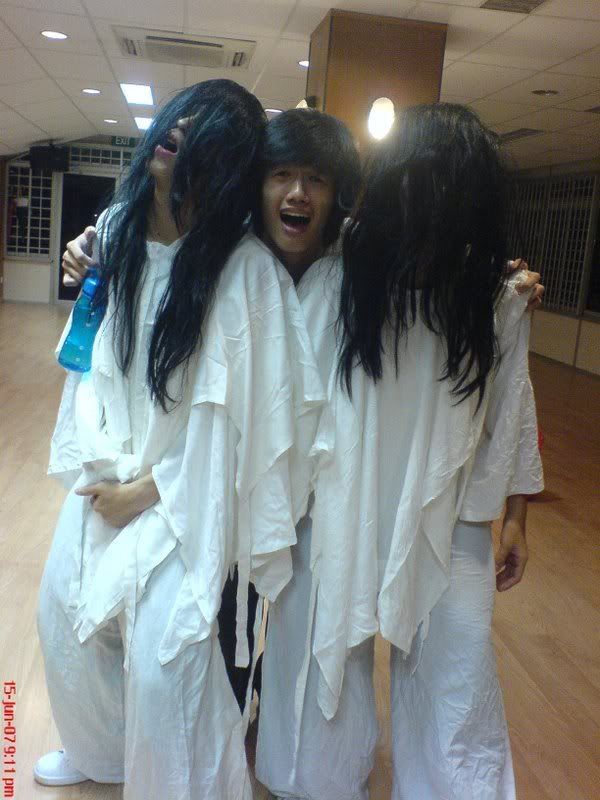 -photo grabbed from nicole's blog-
That's shane between the both of them. Then also ore for running along the route as patroller..think we stink lik shit from all the sweat. I mean we can't bloody hell use the lifts! stairs all the way man! oh n bloody hell! i machiam every nitewalk sure kena "something" la
2006- LSCT FOC [as freshie]
blk 80 stairways: black shadowy figure
2007- LSCT FOC [as gl]
blk 50 lvl 4 corridor hallway.
This one chua sai la! Cos i was lying at the doorway so i giv cue to my fren behind me whose hiding behind a wall so freshies walking near wun see him. So there was this one time he went to direct directions to freshie aand i was still lying dere then suddenly at the very spot whr my fren was..there was "somebody" there keep "oie..oie...oie" from damn long la!
& and now dance camp...cos end of nite walk, ore n i were clearing the stairway off lightstick paper at blk 52. I had a torch so i was removing the papers from the wall on along the stairs then suddenly i felt something on my left. I turned and i saw a pair of white shoes. U may think it's ore but no! ore was lik in fornt of me n dat shoe was lik those old school girl type of sch shoe..then slip on pattern one. I totally freaked out man!
Anyway the following nite we had bond nite. Everybody was so high n nra seriously has a whole bunch of freaks..dislocation n relocation of limbs..butt walking..etc. David's reggae showcase..simply hilarious but he's lik super daring..respect dude. Following day was showcase b4 break camp. will upload the vids soon!
Then i gt promoted to C class. Dunno if it's a gd thing. Is lik so used to b in B cls already...rahh~
Performance coming up this fri at whitely sec [is dat hw u spell it? oh nvm] Then last sat had pract n i fricking pulled a few muscle. Jus realise i can't split properly today without feeling pain..zzz. Lik so much time in dance, hardly hav time for other things..not that im complaining though..
Anyway my hols was jus gone lik dat...practically lik danced thru the whole 2 weeks n when sch re-opened today i realised i kindda forgot loads of things. And i fricking got bck my biochem paper n i did "damn well"
15/70
yes...jus kill me if u nid to. dammit la it's lik so argh! and i had biochem pract to make things worse. Is lik every biochem pract..nobody fails to breakdwn mentally. Stuck in a stupid lab plotting stupid graphs doing stupid calculations...don't understand why my lecturer can't let us bring the report home n complete it...we din even complete it in sch la.
and damn im lik fricking suay today. For dunno wad reason my lappy laggs lik f...nvm..during dance pract i accidentally kicked fariad in the eye..goddamn 'm feeling so guilty now...gah!! hope it gets better by friday for the performance.
I forgot to mention recently my table is lik infested wiv ants la!!!! is not lik those rather big ground ants but those small weent ones and it's pretty gross. Imagine ya doing ur work halfway n u realise an ant is crawling across the screen n next moment u realise a whole crowd of them on the table as if some party is going on. I seriously dunno wads attracting the ants man. I can leave a cup of plain water on my table n next moment i see ants crawling up n in the cup. I was dead sure i wash the cup already..argh! So lik eveyrday b4 i go out i hav to wipe my table wiv alcohol wipes..lik something a clean freak would do. Can't even eat ice cream in my room...RAHHHH!
And damn i hav a project to rush for now..godbless it's molecular bio