Oh man! this is the day i so wanna kill myself. my hair was ruined! 6 mths worth of growth n now i'm back to sq 1....someone stab me pls...argh!
ok..it started out wiv me going to my cousin's b4 meeting abe at j8 n i told my cousin's asst dat i "want my fringe cut flat but some layers, leaving the side fringe long" n i specifically told her "i DUN wanna SPIKE my hair". then lo n behold, she cut away my beautiful rite side fringe n my fringe was lik fricking short n still slant...WTF! good thing she din cut my long mare or i'll shave her bald...ROAR~
So b4 i left the salon i borrowed their wax n spiked my hair b4 proceeding to j8 to meet abe. for the 1st time, she's late! weee~ but anyway we went to get our "birkenstocks" b4 getting some chow n then go meet kai at amk station. Kai was fricking late la then when we met up wiv the other Gls he pushed the responsibility of being late to us....zzz.
NOt many freshie went though...it's lik only a few from the grps went. Anyway, lao de was leading the way to the pits but he fricking went the wrong way so we hav to walk the oppo. aka correct direction to the pits. On our way dere, we saw smth dat made us all tink the wrong way....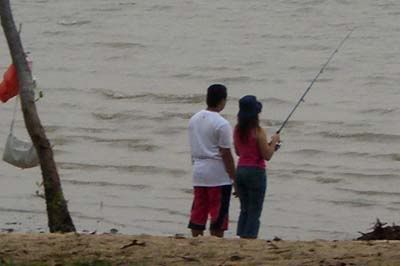 according to donald, it looked lik the guy penetrated the gal....ew~~~
we went on walking then abe n i was so hooked up on the visa ad [ 5 birds] that we decideded to go bollywoodish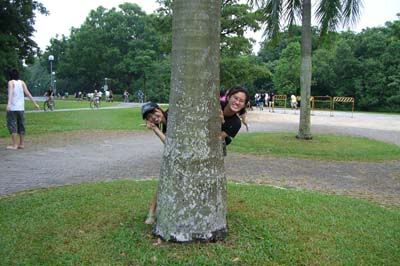 bah...shi bai...can see abe's feet!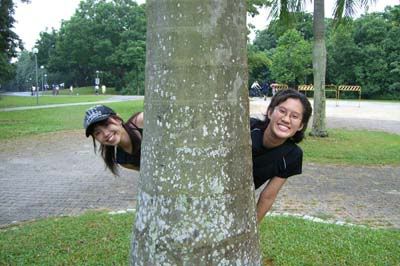 see..better! ok...we were hiding behind trees to ambush on birds....no choice since we only havew enuff money to buy one bird and there's no Richard Gere to sponsor us money to buy 10 000 stupid birds [chk out mrBrown's podcast]
as we were walking towards the pit, kai came along wiv a bike [he mia-ed halfway to help carry stuff] so i made him tong bang me all the way to the pits....MUHAHHAHAHAHA!
It's lik krakenz, abe n joel were lik on a photo frenzy....we took so many pictures!!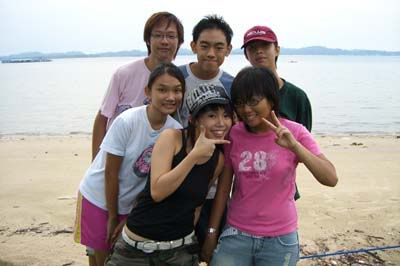 the remains of kraken...pathetic..only dat few of us went la!! excluding the GLs...BAHZ!
B3...bread basket bitch...nid i specify who is who?
oh oh...joel shares bdae as my bro n their attitude is almost exactly the same. N joel says im jus lik his sis....slightly better though...haha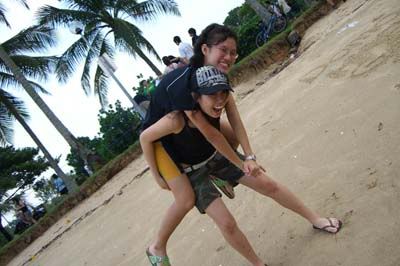 i love my bytch...haha
woo...and this is our lao de playing the guitar...not eactly playing it right now though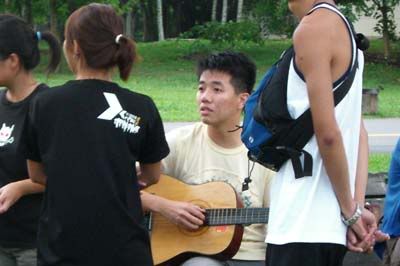 wad is joel thinking?...
oh nvm him...
kraken we rule!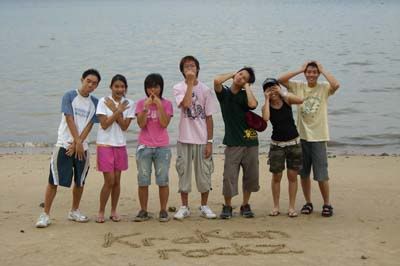 we the monkeys on krakens pledge ourselves to f**k no evil, show no evil, speak no evil, smell no evil, hear no evil, see no evil n think no evil =)
while i was on photo frenzy mode...others were starting the fire...haha...im a bummer =P left: GL welfare - right: Freshie welfare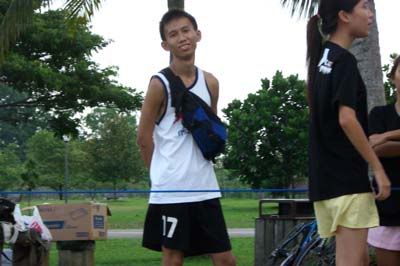 lao ben desu! n his erm...sucky hair...opps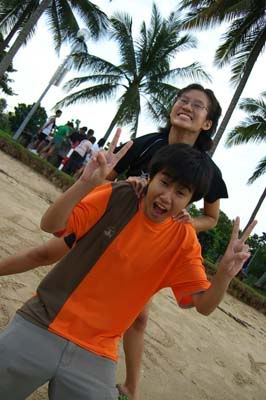 bytch backet agn
the last of the photo frenzy b4 i decide to help out wiv the fire as they dun seem to make much progress...bleahz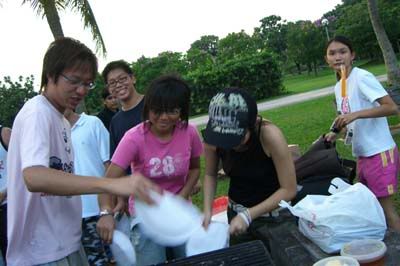 bbqs i rather be the cooker than the eater...see...i really did help ok! photo credits to abe. oh oh! n abe took this really cool pic of me while i was looking very bahz starting the fire...u noe the heat n all
i lurve this pic...lalalal!
u may have noticed...i was wearing a cap...lik duhz! lik why wud i wanna display my sucky hair so i kop-ed wayne aka eyeliner's cap [i always kop his cap..haha!] while he had to face bad hair day..muhahahahhahaha .
anyway, we were sorta competing wiv the GLs see who's fire came on 1st...and of course its us! *smirking non stop* but i tink the GLs' pit lasted longer than us cos we were using small charcoal bits while they used the big bits
as time passed...mre krakenz came!......but only two -_________-" karen n ck!
i thot i wun b kind n help other cook their food n then i was labelled as the butter gal cos i was buttering the food while denise n another gal were turning the food. So annoying! i honey coated some wings meant for denise, abe n i but so kus took it away!! bleahz! then the heat was killing n i decided to take a break frm the pit...only eat a few crabsticks, n 2 wings...bahz! so....photo frenzy agn~
the eaters n the cookers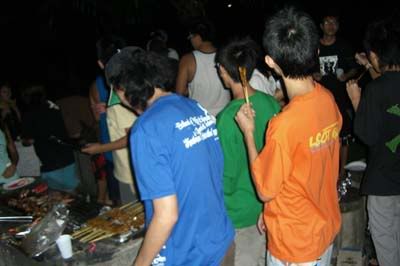 the seniors~
jeremy aka jialormee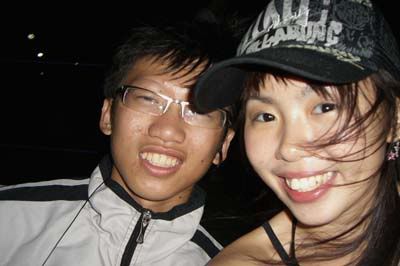 anyway...that nite was quite breezy...not very cold but lormee wore his track singlet, tee n a jacket.....cos he scare get raped..haha! but in the end he really did gt raped...as in "rape" by the other male GLs. He was jus the warm up...they raped the outcast GL aft dat. well...lor mee very ke lian though...haha
we din get to see the rape scene but hearing the contents is sick enuff
things la "hey! where's the corn..go get it!" it doesn't take a genius to noe whr they put it...n the corn was eaten b4 la. there's other lik "put sour cream!!"
sheeshz
my bud cum nite-walk partner during camp!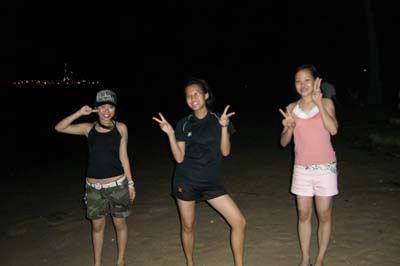 so bah...only SAK of SMACK came..BLEAHZ!!
i noe u're getting bored by b3 but.....we lurve taking pix!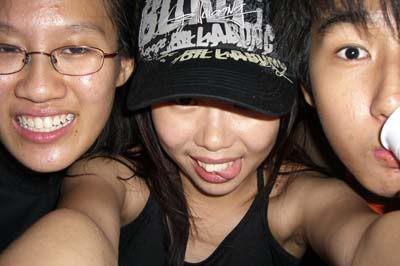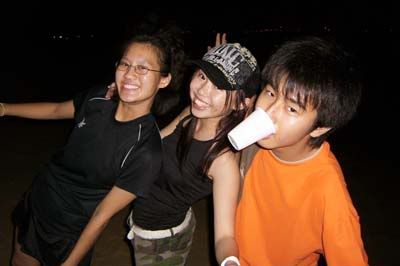 since the wind was quite strong...we decided to take a wind swept pic but....smth freaky turned up in the pic.....
WTF!!!
ghostly orb....abe n karen freaked out totally whn i told 'em bout it...bahz! pasir ris is orby....
then lao de was telling us ghost stories in ngee ann dat nite too...i wanna go nite walk agn...especially blk 50! =X cos other than me sighting smth at blk 80, blk 50's sighting were mre frequent...BAHZ!
abe n i had to leave earlier...actually it's her dat has to leave early...i jus pei her...haha
b4 i end...here's smth for gene...though he has seen it. not as impressive as wad he did....but the meaning is dere k...humph!