jus realise it was eons since i last blogged! working seriously ate up most of my time n i hardly hanged out with my other frenz except for my colleagues n gene. CJ!!! whr r u my horror movie bud!?!?!? i wanna watch dorm! n stan!! let's go sing k!!
come to think of it...i seriously let working get over me that i no longer hve time for my frenz [except for some...] Few weeks bck or 2 mths bck, there was this pri-sch-cls gathering but i din fricking go...cos of work...argh! it's lik 4 yrs sicne i've seen them not i couldn't make it. argh!
ah well..met up with cheryl n jaz...at cher's hse today! damn i miz her room la...so big! ok..though dimension wise my room is bigger than hers but it's fact i'm sharing with my bro n my room is plain...so i lurve her room la...wahahahaha!
well..cher tried to bluff me cos i was asking her "jaz go home le is it" n she was lik "ya...she go home already"
then, we were walking towards her room when jaz run out of her room n went to cher's room to use the com -____________-" seriously, it was a stupid moment...haha!
1st thing is did when i enter her room, dump my bag on the floor n slumped onto her bed...i was damn tired! n by golly! she has a new bear plushie n it was damn soft...so i kept hugging it all the way till we left ...except when we were eating n cutting jaz's hair.
anyway...here's the reason why jaz was running b/w cher's n her bro's room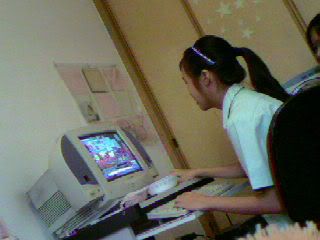 in case u can't soo wad's on the screen...jaz was playing maple story...otherwaise known as mapling. can someone tell me wad's so nice bout the game!?!?! i tink it's a bit...well...dortz...can't find a word to fit in but i tink dortz do jus fine.
So i was getting bored n nearly dozed off when finally we decided to watch some taiwan drama!
ER MO ZAI SHEN BIAN
is a fricking nice show! i seriously wish my relationship work out smth lik dat....on 2nd thot...nvm...cos it's a jie-di relationship n the guy is goddamn dao. i prefer guys who are hmmm...mre humourous n nvm...it's always the 6th sense for me but bengs n dao guys are totally not for me!
We gt pretty bored watching the show then jaz hair was getting far too thick so she decided to lemme snap her hair! well...i did but her hair was in such a mass...i only snapped off some n it still looks lik a lion's mare. In the end i gt sick n cher's mum gt home, we headed to a real salon to get her hair done..as well as cher's.
While cher was using the toilet near the gym....gt pretty bored n started snapping pix. N i was wearing the nerd specs then...so here's a nerd moment of me! with jaz in the bg grinning from ear to ear...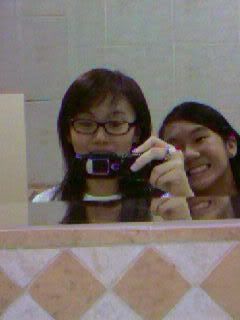 nerd jiu shi nerd...thats why i hate wearing specs...hahahahahahahaha! but oh well...i kept wearing it for fun..hehe.
Arrive atthis salon in amk central n at the end of everything...we have 2 new babes..cher babe n jaz babe! cher look damn cute with short fringe..see cher! wo mei you cuo de ok...muhahahah! as for jaz...she looked much fresher n her head feels much much much lighter according to her. we actually took screenshot from er mo zai shen bian so we can show the hairstylist the fringe to give jaz but it din really end up lik it...oh well...maybe i shall do some trimming...muhahahahahaha!
wells dats for now. can't believe i'm working 6am shift for practically the whle week of my schedule. save money on transport though...hehehehe! but i still got lesser money compared to 7.30 shift! zzzz....i'm desperate for money! cos my acc finally hit 1k!! but...
-
i still owe my mum $300
...the money i suppose to giv her [crap..she asked for $200 bucks at 1st! lik why she nid dat much money for! so we argued to $100 n i'm still not happy with it...shld ahv bargained to $80..zzz]
-
i nidda save for my new fone
[pda or regular fone? wad models?]
-
save money for shopping for poly stuff
[clothes , accesories, bags]
-
get gifts for the Apr babies
[YES! n some
KUKU BUNNY
asked for a blazer from G2000 costing $199! sadistic isn't it...so will that kuku bunny pls stand up...haha]
i wanna b rich T_T