Great god~ the week has been so slack, i'm back into holiday mood again..bah!
i merely studied for alternate weeks this week bcause Tuesday was e-learning day for my school and thursday was Deepavali. Spend the week obsessed with Harry Potter and the Deathly Hallows.
LIKE FINALLY I READ THE BOOK!!!!!!
borrowed the book when i went to cher's house on monday with jaz. Though I've finish the book, i think i'll go buy it anyways. Because i want to complete my collection of all 7 books and i bet that i'll want to read it again. It's so..i dunno hw to describe man. Harry potter series just ended after so many years. my 1st potter was lik from p5 untill now when im 18 im reading the last book! HARRY POTTER GOES THROUGH ALMOST THE WHOLE OF MY TEENAGE LIFE!
all was well.
i think i'll get the book
=D
anyway i've been slacking for this whole wk.like serious slack.din even dance for the whole wk untill friday. Was suppose to go dance on monday but i ended up staying at cher's house till midnight and i'd to walk all the way home from castle green; which is horrendously far, quiet and dark.
__________________________________________

Monday, 5th nov

wad was suppose to be jus a xiao long bao lunch became a visit to cher's house cos she nidda do her proj and i was lazy to go for dance. Was watching some korean boyband stuff till we were hungry and went to get dinner. Ended up cooking...
huge pot of instant noodles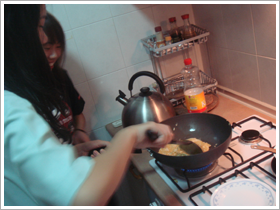 jaz the chef in making
Ealier on we were watching a korean variety show and there was this guy who stuff a whole mouthful of noodles into his mouth..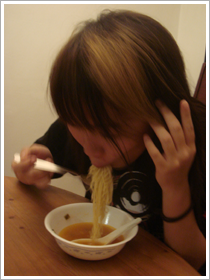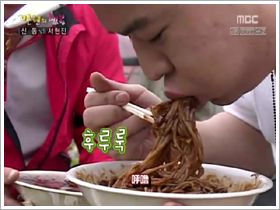 compare and constrast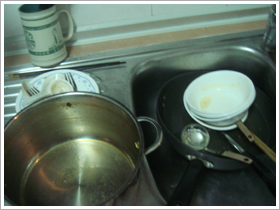 cher and jaz doing the washing while i took pictures =)

_____________________________________________

Tuesday; 6th Nov

Meet Cheejian aka xlazy at early afternoon to pass him his present and have lunch. anyway i think i'll jus call him LAZY in future post if i ever do mention bout him again. We were suppose to meet at 12 but turns out he skipped school in the morning and only woke up at our meeting time -___-"

guys should never let girls wait.
good thing we were meeting under my block so i did my e-learning stuff till he called when he arrived.

that bummer never ate pepper lunch before..LOL!
and i didn't have to pay for lunch cos he treat me =D

went to school after that to do some project stuff before meetin the sgls to overlook the gls rehearsal. Well i can't say much about them, they still have to improve. Yea sure they claim they put in a lot of effort but i don't see it...not when they always fool around during rehearsal andturn a deaf ear to our advices.

Anyway went to canteen 1 with a bunch of ther sgls and end up discussing some issues while some of them ate. Went home for dinner after that. MOM BOUGH DONUTS FROM DONUT FACTORY!!! i'm still in love with the strawberry&white chocolate, actually i think i jus lik the strawberry jam...YUM!!!!! pity that the branch at velocity don't have strawberry hearts.

________________________________________

Wednesday,7th nov

Was my brother's and joel's birthday! Gave my bro a shirt..which i regretted later cos i thought i shld have given him a watch instead. But since they say giving clocks and anything of the like like watches brings bad luck. so better safe than sry.

As for joel. we gt him a "cake" that is rich in vitamin c.....18 oranges!!




was suppose to giv him his "BAPE" jacket [that 16 ppl shared] too but it hasn't arrive yet so only gonna give him on monday the following week.

_______________________________________
Thursday went out with cher and jaz again to get jaz's prom dress. It pays to be thin even though ya flat chested! jaz look damn nice in the tube dress she bought!! only thing is it was a bit loose atthe chest so she went to alter it.
Fri was pretty flat too. i finally danced!!! but got kindda furstrated. I just hope that person put in more effort and heart into this thing...the whole group wants to go to the finals! I don't wish that the whole group's effort and hardwork goes to waste because of one person that drag the team down. If we don't get into finals *touch wood* working hard then that's it. But if it's because of one person who lack commitment and pull the group down, i guess i'll get pretty pissed.
i'm not being mean, i just hope that person be more committed to this.
69 more days to the 1st heats
. It's not a very long time you know.