Lik so ridiculous can! Just now gene and i went to the hawker center near my old place for dinner. Being rather poor [i had $5 and he $12] we ordered a plate of char kway teow and $3 worth of oyster omelette.
The noodles came and we started diggin in 1st. THen when the same aunty came back with the plate of omelette. both of us were practically stunned in our seat.
now here's the question, usually when u order oyster omelette at $3 u should expect a lot right? like half the plate and stack a lot right?
This is what we've got...
it's damn super pathetic! the amount is equivalent to 2 portion of scrambled egg from Mac big breakfast! with only 5 miserable pieces of oyster in it too. Naturally both us jus pretty much stunned and uttered ..
HUH? this is $3!?

and the auntie still have the cheek to say

"ya
what..you order $3 only ma"
lik seriously man..i wouldn't even expect a lot more if we've order the $4 one.
so be warned! if u ever go to the market blk 600+ at amk/yck..the one near the CC, don't go to this chai tao kueh/oyster omelette stall that's along the damn nice wan ton noodle stall least u get scammed
suddenly i feel damn auntie after writing that chunk *shuddens*
anyways yesterday i cooked fried rice for gene's lunch! lik wake up early in the morning jus to cook the rice and prepare the ingredients..then have to take mrt and walk the super xtra Citylink to reach marina sq. See what a wonderful girlfriend i am =))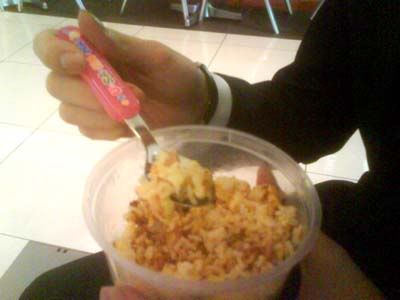 I know it doesn't look really appealing but gene said it's nice! See the spoon he's holding? damn cute right..bought from daiso..spoon/fork set with box at only $6
[auntie instincts coming back again..damn]
anyway..gene changed uniform already! now he look lik SIA's air steward!
on the topic of air steward, you guys know the chinese of air stewardess is 空姐 right?
that time a few nra friends and i were slacking at cheers after dance and one of the senior, peiying..jus grad from SIA. So now she's a full pledge air stewardess! and she gets to fly around oh so often *envys*
but anyway, i asked her
me: hey..if air stewardess in chinese is 空姐,
then air steward is what? 空哥ah?
py: lik no! is 空少 la!
well it's not exactly a stupid mistake what! i bet most of you didn't know also right. Cos after that i went to ask a lot ppl lik gene, joel, davin, donald, denyse and lendl [whom chinese is quite zai], they all said 空哥 also lo! someone else..i can't remembered who..said is 空弟 !!
After reaching home from ritz, qian hui suddenly called me to go for funka dance pract at 5pm..super last min and at that time was 3pm+ going 4pm and i was busy waxing my leg [what! it's normal ok]. So happenly i was supposed to meet weng n jess at 7pm at bugis for makeover session; cos jean yip gave all nra performers at amk hub a voucher for a free session.
so i though sure can make it in time so i agreed. skarly when i called jess she told me she not going for the pract!! so in the end i
took cab to sch
and then the pract ended late and i have to
chiong cab down
to bugis while changing on the cab; not forgetting the peak hour charge.. feel damn broke after that..sigh
oh ya, I AM IN THE SAME FUNKAMANIA GROUP AS JESS!! along with jefferson, qian hui, xuan feng, michelle and fariad =D
So by the time i reach there, weng and jess were already done! turns out the "makeover" was only make up and a photoshoot of 12 photos. suppose to include one outfit but their outfits also cannot make it..lol.
Right after the photo shoot, the 3 of us proceed to watson to get make up remover wipes. super over lo the make up. and can u belive it..the person used pink eyeshadown on me!!!! lik wth! freaking pink!!! if that wasn't enough, i was wearing green..how "matchin"
while in the toilet took super loads of pics. unfortunately all the photos are either with jess or weng so i have to wait for them to upload the pix 1st.
i realise i'm super not photogenic . out of the 12 shots, i only look good in 4 -_-" but fear not, i am in fact, a da mei nu! ahahaha. There are pretty girls who are not photogenic too but look gorgeous in person lol
Went to look for geraldine at bugis street where she is working after we had dinner cause weng was considering to get shoes from her shop. Turns out the shoe that weng wanted was sold!
moral of the story: sometimes shopping is not an impluse, you just have to get it else you'll never know if you'll b able to get it the next time
Then hong kai came to fetch us home. Not all of us though, cos he dropped weng at a bus stop. Anyway that fella jus got his license not too long ago and he's driving for the 3rd day. Funny thing is he kept losing his way around haha. Sad thing is, he's driving a van and i had to endure the bumpy ride all the way to ang mo kio.
Shucks...tmr i have to work. SO gonna be freaking bored then..rah!!