Actually it took me quite some while to come to terms we're together lol. i think nobody realised what's going on untill we went up to his house cos the stupid boy got high-ed after one and a half cup of jack daniel's and started acting lik a kid and i had to tend to him. Thanks robin again! ^^
*credits to yimin for the photos*


Bbq~ look at the mashmellows at the pit. I think i chiong-ed the most mashmellows cos that the only thing i rmb eating...plus 2 prawns






marc's super enthu face (LOL)






i kept thinking justin look like some cartoon character here..then i realise he looks like..





actually not really this one...is another fish in spongebob =XX






yimin n me






Ronald eats n eats n eats n eats n eats n eats......






Ks' gay pose. Anyways ben tagged u as gayboy in one of the lockdown pictures XD






all act one nerd only hahz






Leonard lik act chio here hahaha






Cake! but it was black forest T_T






The birthday boy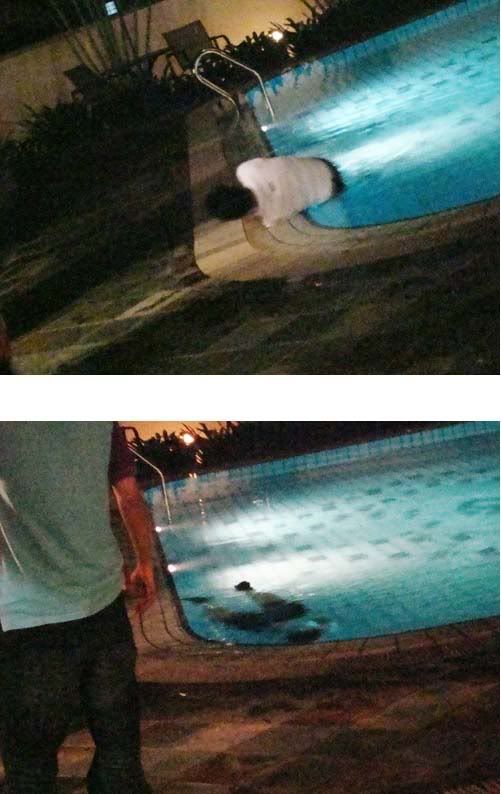 Haha! this was probably the dumbest shit that happened that day! Apparantly max kept harassing kenneth by doing gay stuff to him then kenneth ask him to fuck off. So max walk away eating his durian. Then kenneth continue talking then suddenly out of nowhere, a durian seed came flying and hit kenneth on the head

*note* kenneth hates durian*

so kenneth chased max and rolled his fat ass into the pool. But since max mentioned his shirt was $100, kenneth only sank half of him. Who knew max drowned himself after that.

But it was good entertainment hahaha!