T_T
THKS EVERYBODY! i is seriously ultimately touched today.
I mean 1st off, a lot people that i didn't expect will remember my bdae de wish me happy bdae!
then a lot freshies that i don't talk to or hardly know wish me happy bdae too!
so this 2 things i already very happy le
then !!
omg i seriously wasn't gonna expect much today cos every year had been the same but you guys really gave me a memorable bdae. Lik in future i can look back
"NRA celebrated my bdae with me in studio 73"
the
mian bao chao ren cake
the
birthday board

i was really feeling very xing fu when i read all the short wish u guys wrote. Lik some of ya still rmb my name desipte calling me mianbao for lik 3 yrs! And also lik ppl i dun expect also sign the board..jiu small small things i also very happy
the watch! YES!!
THE FREAKING WATCH
! oh man! and it's lik damn expensive!? zhen de! xie xie ni men!
*speechless*
really!! thks a whole bunch!!!!!! especially to mel, fenyi, jon, kit kat, denyse, joel, jaei, nicole, yutong, yvonne ang and donovan!!!
fenyi bao bei!!! really never bai deng u!! *although actually i also bully u a lot*
u gt most heart ok ahaha!
despite all this.. NRA PEEPS! I NIDDA TELL U ALL SMTH!!!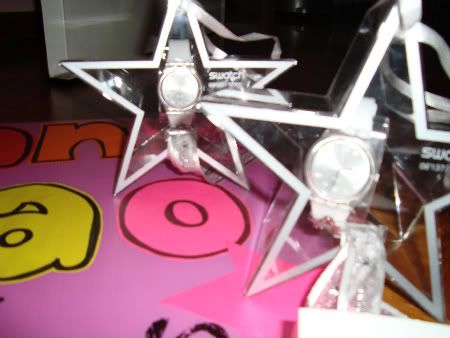 Eugene bought the same thing for me too ><
gene really thks alot! actually i dunno how to thnk u but u really hen you xin.
He actually found a serial number with the number 27 in it la!!
and why u so po fei! then now u broke for the month!! haha. it was nice catching up with ya too =)
but no matter wad..i will treasure and take care of the 2 watches ok!!!!!
LOVE ALL OF YA!!!!!!!!!!!!!!!!!!!!!!!!!
ok it's lik 4.24am now!! i nidda sleep!! i'll blog more over the wkends!!