I'm suppose to blog bout this but i totally forgot bout it..though its kindda hard to miss
last week.....
my household received
1 YEAR SUPPLY OF

HEAVEN AND EARTH GREEN TEA!!!
....
madness right!?!?



*from my bro's blog*




muahahahs.




my 1 year supply of GREEN TEA is here!




hahahas.sadly..they are in
cans.. =.=NOT IN BOTTLES. T_T




15 cartons of it la!hahahahas..i am gonna go GREEN TEA madness!

seriously can drink untill sick la! and up till now, we only drank 3 cans!!
Don't believe?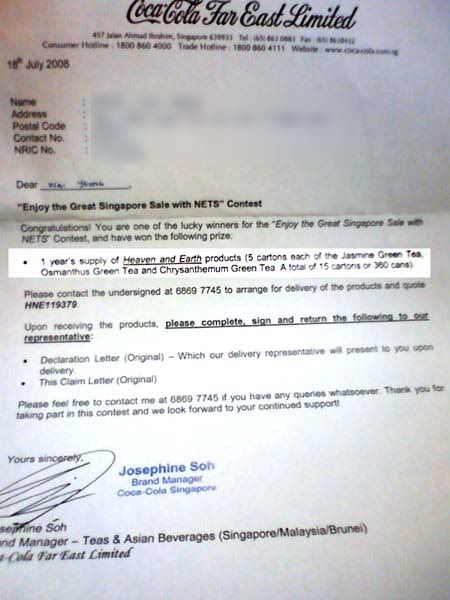 just stacking there next to my fish tanks
at least now i got drinks to give people when they come my house lo! usually people come my house only gt water to drink. If heng then mayb gt yakult/vitagen or fruit juice.
so pathetic rite? hahahah!
if u love jasmine/chrysanthemum green tea you can come my house hahah!
i'm gonna finish the osmanthus one cos its so damn nice! HAHAHAHA!
---------------------------
Yesterday caryn, linette and i were hanging around Taka then we went to this shop The Better Toy Store. The shop sells ridiculously priced toys lo seriously! but anyway you all there's this series of soft toys call the Ty Beanie Buddies?
if dunno nvm, now i tell you u know le ahaha!
anyways the beanies have different birthdates *seriously* then lik since sec 1 i've been searching for my birthdate but then i gave up in sec 4 cause when i check the website it says "retired"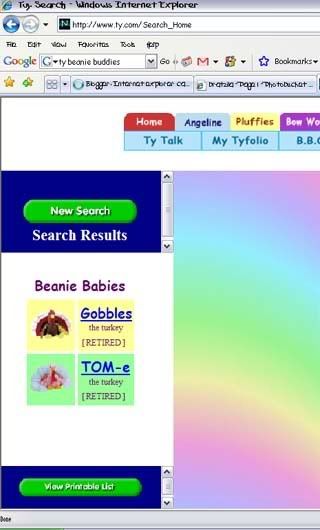 my birthdate falls during holiday season what thats why turkey lo

you can check and see if your birthdate happens to be an ugly animal not here
main point is, i saw a whole shelf of TY beanies at the shop so i was thinking jus look through for the fun of it then...
I DAMN HAPPY LO!!!!
i thought its like extinct then i saw it at the shop la!!!
but i didn't buy it
which i totally regret now cause when there's only 2 left on the shelf and i just let the chance slip away *stabs myself*
please help me pray it's still there when it's my birthday *hints*
---------------------------------------
Alex bought 2 hamsters today and they're gianormous lo! lik baby ginuea pig la!
eveyrbody keep playing with the black one cos it's super active. All the beige one did was curl up into a fat ball of fur and sleep...li kthe whole day la! the beige one is lik damn lazy lo! then i think they wouldn't breed cos the male beige one really too lazy liao haha!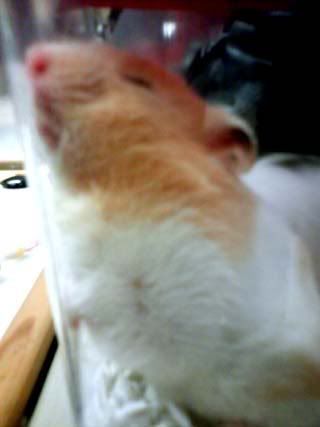 it stayed in that position for like damn long! then hui ting and i jus keep taking photo of it then it totally don't care..just standing there PRAYING
KitKat: If u put a compass in front of it, the compass will point north one

*trying to say the hamster is muslim*
i don't like big fat hamsters.
I WANT PUDDING HAMSTERS!! cos they're yellow fluffy balls of fur!! u gt see yellow hamster before? no right! its damn cute lo seriously! i saw it before at Pet Safari at Vivo but when i went back again, they're no longer there
=(
-------------------------
i'm feeling damn wanna-vomit-tired again
what's wrong with me la....shucks.
Nikki is going JAPAN!!
FRICKING JAPANNNNNNNNNNNNNNNNNNNNNN!!!!!!!!!!!!
T_T i....wanna...go...too....!!!