YAY! i jus satisfied another craving of mine...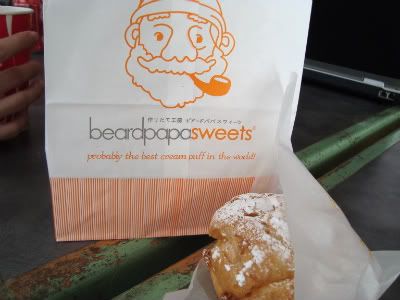 Bread
beard papa's DOPE cream puffs!
I was too lazy to go all the way dwn to bugis to get them then today while i was walking to the studio, i saw someone selling them as their I&E proj in sch! wah gt happy dao lo!!
i super like cream puffs la! and
bread
beard papa's one is like the best i've eaten.
now im left with shokudo cream pasta *hungry*
anyway when i entered the studio today i kena stunned by this...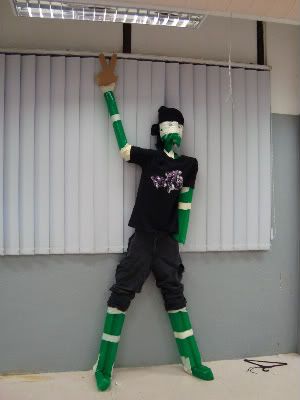 apprantly alex was too bored during his 5 hours break and he made this thing. vic n baowen claims its our mascot haha

it's damn tall!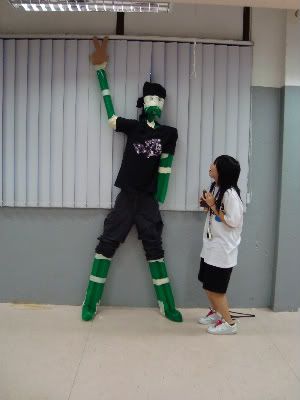 and i look fricking short n fat in this pic -___-"
oh !!! recently suddenly i realise a lot people (mainly nra juniors) actually thot
mian bao
is my name..lik literally
steph leong mian bao
!!!!!
WTHLOL!
but everytime they ask me why i have that nick then i have to repeat the same old story so i think i shall write an exclusive entry on
"why am i call mianbao"
so next time anybody ask me i'll just refer them to that entry. Saves me the trouble of repeating it over n over again!
ok i'm off to sleep. it's 4.56am and i was done with my safety report (finally) before i decided to update my blog
yes i bet u realise i haven talk bout dawn yang being a guy before. Well the title was jus to catch ya attention for a boring entry. Talk bout cheap thrill ...beh!
-stupid! i kept spelling beard as bread...5.15am when i finished posting this entry-