I just realise i haven blogged for 4 days..rather..i din even on my laptop for 4 days la! Cos for the past few days i'm always homed late, ended up too tired to blog. OH~ the weekends were nicole and ronnie's bdaes. Gave nicole her necklance; a necklance with her name pendant...which i twisted out of wire! twist untill my fingers pain la. But heng my hard work paid off cos she liked it =) thing is i've forgot to take photo of it...rahh!!!
Anyways school has okok...the only interesting thing that ever happened this week has to be Immunology lab practical. For your info, the mice are used to test chemicals that makes your antibiotics! in fact most rodents are used for such experiements. Eg. rabbit, rats, hamsters, mice. So next time be kind to rodents!!! because the rodents went through loads of pain for us.
On that faithful wednesday, my class went into a state thats similar to that when a whole cinema of people are watching SAW. Girls squealing and traumatized...guys also almost there.
For that day, we had to extract blood samples from the 8 swiss albino mouse for our class.
Before i move on...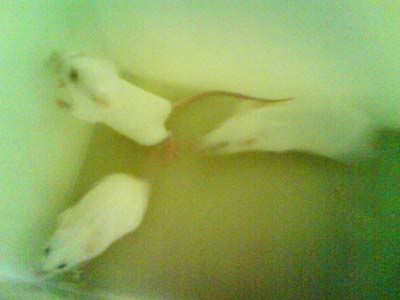 see so cute la!!!



they're only as big as my index finger!
and they sure do shat a lot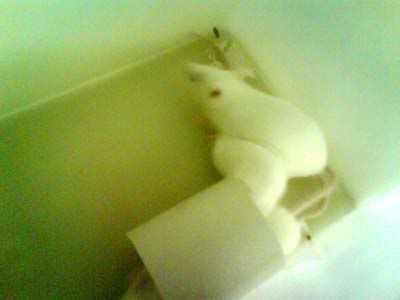 awwwwwwwwwww~


As i was saying earlier, we had to extract blood from the mice right. the process is as follow.
1. Scruff the poor mice
2. wipe the cheek area with alchol
3. Prepare the needle.
[the needle is bloody ass big for the mice la! it's lik the diameter of the small screwdrivers]
4. Yes at this time you can guess what's gonna happen
5. Aim somewhere diagionally below the mice's eyes and poke!
6. yes collect the blood now.
here's a pic while blood is collected.. taken secretly cos by right cannot take..so u all ownself see don't leak out ah as i sure die.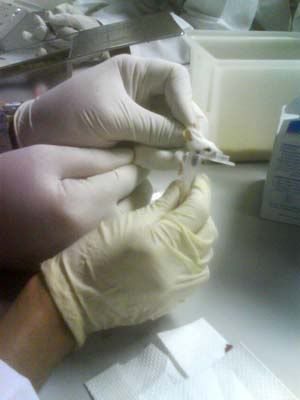 not clear??








close up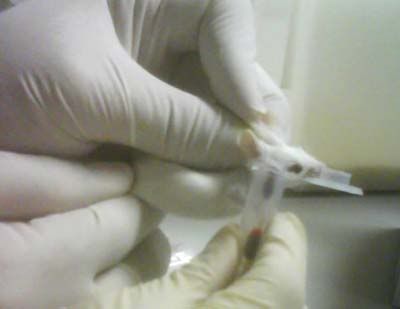 Before you faint...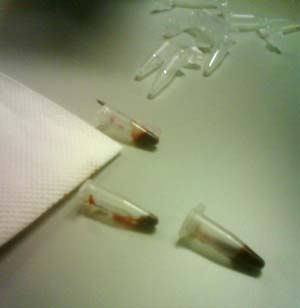 the amount of blood collected from one mice. One mice one tube




Now you see the reason why most people freaked out including the guys. Suppose to be us doing the blood extraction. End up is Dr chai do 6 mice for us. One was done by one of the guys from our class. Then the last one right...is i try to extract. But the mice damn poor thing la!!!!!!
I BLOODY HELL POKED 3 TIMES! DR CHAI POKED ONCE! AND NO BLOOD CAME OUT STILL!!!
i was lik so guilt-riden man. in the end we spared the mice cos kena poked too many times le.
It's a scary scene lo! cos as we get the blood from the mice, they eyes will lik slowly go lik pop-out lik that lo. So fricking scary man! they eyes turn from blood red to orange!
i scare the mice will reconigze me then will hate me for the rest of the sem =(
That's not all, all the mice were given ear piercing and injections on that day too
Injections to make them sedated so they will b less active during extraction
ear piercing to identify them
lik damn ke lian lo!! is lik most when kena injection will squeak then use they paws cover their eyes or mouth..lik human reaction when one is frightened. Then when kena ear pierecing, even though they're sedated, they'll still struggle and squeak damn loud. See already damn xin tong lo!!!

it's gonna be a long semester