k i'm in Biostatistics cls now and im feeling damn sleepy. Seriously i tink im lacking of slp big time, my eye bags are coming out and worse..they're turning black n probably in the near future if i still dun catch up on my sleep i'll lik a zombie with deep dark eye circles...rahh. Worse thing is, with the wet weather, it makes the atmosphere so nice to sleep in, i always doze off during lecture...unknowingly! thats lik i jus fell asleep not knowning i did, only to realise when i woke up and the lecturer had already moved on dunno how far ahead =.="
Been dancin' so much i lost weight! wahahahahahha! dropped 2 kgs down! woot~ and today im gonna miss 'c' class again and 1st gl training! cos tmr jess, vaness, wei jie, lye huat n i gonna take part in a competition organised by lsct and we haven even finished choreo yet! damn chor~~
btw, i jus rmb smth really lame. On monday, vanessa, davin and the rest from their sem witness a car accident involving 3 cars...IN OUR SCH CARPARK! wah lao...so lame can. It's pretty understandable if an accident occur on the main road but in a carpark! but all 3 cars belong to P-plate owners though..still...it's really zzz. I rmb-ed telling a random person (i think it's gene whn he came to fetch me from sch) that it'll b pretty stupid and xia suay to meet with an accident in the sch campus.
Anyway today i spotted a pretty wrong poster today then joel kept laughing it, donald was there listening to how nadj n i interpret the poster....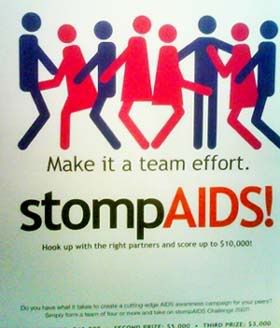 doesn't it look lik a mass orgy to you!? and the sideline "make it a team effort".....super wrong la!!!!