Screw stupid emo post! I'm loving biostats!!!!
I had my biostats paper today n for the 1st time in my years in ngee ann [actually 1 n a half so far] i finished a paper n damn confident i will pass the paper!!!! wah so happy can! Then ystd i saw something pretty lame while i was watching a video on youtube cos i dunno wad a cumulative frequency curve look lik..
in the end the poster of the video also neva reply...
Btw, i started playing neopets recently! nth to do n lacking of games to play online ma n dance gonna start soon! finally! maybe aft dance camp ba. Been thinking, wad would it b lik if i'd really gt into the main comm for lsct. Initially i was lik quite happy i din get in rite but come to think of it, lik very sian cos i sure go bck as instructor now then instructor every wed MUZ go bck training then main comm is not compulsory.....okok i'm not minding bcos of that. I LOVE LSCT GLS K!!! jus feel lik im missing out on action but i've agreed to help lendl to look out for D&D spots. DENYSE GOT THE POST I WANTED LA!!!! haha...she's the event corresponder for main comm n jeremiah is her asst. N very expectly donald is the vp. Can't wait for gl training to start..lol!
And gene n i are gonna b together for 1yr 1mth together!!! yes i noe i neva do posting for that day but nvm i'll put up a few pix =XXX
ate at spagaddies at marina sq =))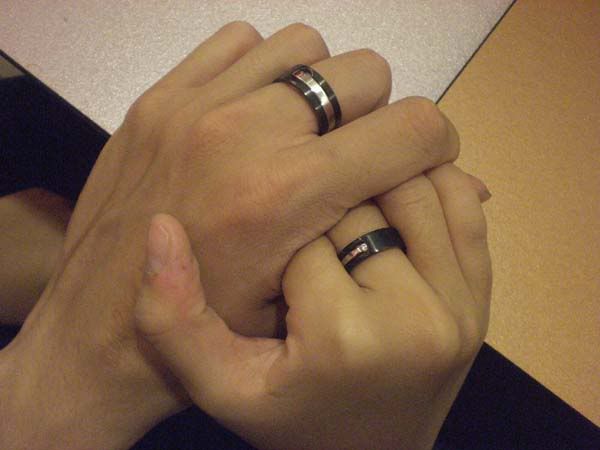 our new rings!
i gave gene a puzzle n he completed it at mac
its gonna b my last paper for the term. MATHS!!! knn i super hate maths! shall conquer it tmr....i kena warning letter from sch to remind me i MUZ MUZ MUZ pass my maths...super sian. Aft dat im free~ then gonna go shopping wiv denyse they all on fri n makan wiv the rest of the available of the gls then big groove on sat~
i so nidda slp now ...fricking tired man