ok ppl~ i'm fine...oh so fine cos i already expected myself to fail maths...hahaha..
and i also expected that my gpa would b lik shit [1.67, can round up to 1.7 lei!]
cos only the mbio paper was easy~! thk gd i dun hav to repeat IPC man, then it would b dr kueh all over again! At least i dun hav to see that stupid emu anymore cos she fricking retired! haha!!
oh well, it's MOL all over again~ dammit!
Ystd had the very 1st dance pract session for FOC item and we went through sexy love. Damn proud of myself cos i finished the choreo and teaching the couples ystd! but the sad thing is other than donald and me, 4 other ppl turned up -_________-" but at least im done so next pract would b easier! lalalalala~ Now i hav to tink of the choreo for hip hop, using the song bo jian dai. Trying my best not to use ann's step la..haha!!
oh went to eat at pasta cafe wiv cheryl. it's ik so weird to hav ur own colleagues serve you. Anyway, i ordered the sambal minara n cher order the dory fish gratin, which she regretted cos aft orderign she realised she wanted to eat the japanese curry pasta more haha. I tell ya, the sambal marinara damn nice!!! It's actually linguine stir fry in sambal i tink and there're seafood as well. The smell is enough to make your mouth water.
Went to shop aft eating and i bought a new pair of slips from charles and keith
you hav to tie up the string thingy. Actually there a grey pair but i tink black is nicer, who cares bout commonity, i find nice can liao. Cher say look lik monk shoe zzzz. then went to far east out of the blue cos nth to buy in particular n i jus end up buying these!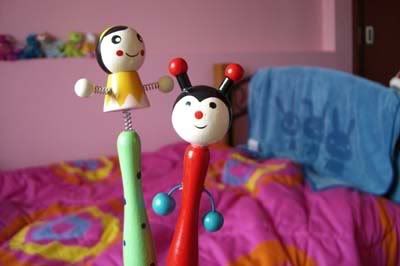 damn cute pens ok!!!! n one is lik bout 2 bucks...muahhahahahahaha
and back then there was this one time i wanted to make a name necklance but it was too expensive rite [fricking 100+ bucks!]
cher found a damn good lobang online!!! weeeeeeeeeeeeee!
http://www.soompi.com/forums/index.php?showtopic=96640
scroll down, it's somewhere in the middle
sian, ltr hav to go work -___________- but dat will b all for me this mth!! muhahahahhaa, aftnext wk shift at ritz, i doubt i'll work till foc n dance camp is over. but by then sch already open liao....double sianess~