HAPPY CNY ppl! you know wad~? i'm free!!!! i'm finally free from the clutches of stupid exams!!! but *sigh* i only hav high confidence for my mbio paper..the rest are lik bua bua bua~ Anyway i can't wait for dance practs to start!! aching from all the non-dance days man...jus begin with a few updates too btw.
Valentine's day-

Wah damn pai seh can! Early in the morning, i woke up jus to go down to gene's house n put post-its on his bike. Of course i wrote sweet stuff on the post-its la. It's lik 6+am so there're ppl ard whn they see me put the post-its ...so zzz! Then i waited for gene; cos day b4 say he 7am come fetch me then we go hav breakfast n he 7am plus then left the house k. The ultimate pai seh thing is, he came down with his older bro! then then his bro ji siao or smth...super fricking embrassing! Neva will i do anything lik dat anymore! Gene gt me a bracelet n he made a keychain for both of us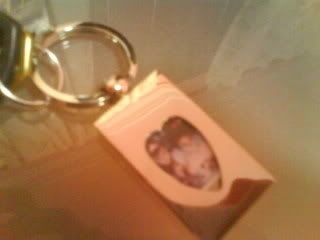 it's 2-sided btw.
yup~ i sure did hav my IPC paper n i'm sure i wun pass it. So anyway aft the paper rushed home to bathe n change to meet gene. In the end had dinner at Swensen's at ps. and lik Swensen super into the valentine mood la. They hav this menu for valentine's day and everything is love-smth smth.


Drink: love potion
salad: love toss
finger bites: love smth *dunno cos i din see the menu*
baked rice: love rice
ice cream cake: love smth


the worst part is gene n i gt kindda full even before the main course was served..haha. The pic above is the chocolate ice cream cake...cute rite. Budden gene n i ended up mutilating it cos the chocolate case was a lot so we ended up jus digging the ice cream cake inside..haha.

yup...and we sure din take photos together that day, not even neos cos aft the dinner was quite late...8+ and gene wanted to go bugis street to buy cny clothes . Well he din buy anything in the end while i bought my fren's bdae present. In the end reached home lik 11+ cos gene was tired from day's work n i hav to study for physio next day too...which i gt fricking careless..*sigh*



Movie review- Epic Movie

aft mbio paper on friday, a whole bunch of us went to watch epic movie. N it's really..REALLY a whole big bunch of us


Ta da! 1st time buy more than 10 tix..haha!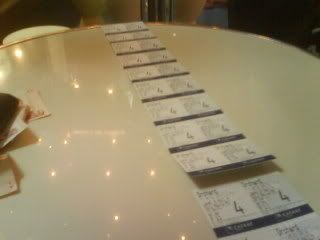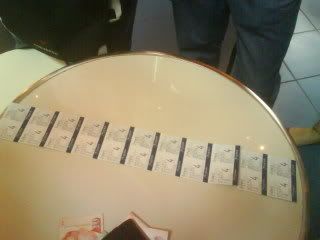 anyway for the movie, if u don't lik Scary movie u wun lik Epic at all. I mean wad can u expect from the same producers of Scary movie..haha! but if u really nid a good laugh do watch it. U'll probably laugh form the beginning till the end. Some impersonation includes characters from x-men, narnia, pirates of the caribbean, willy wonka, da vinci, nacho libre, snakes on the plane etc. n if u watch it in the theaters, do stay back as they air the credits cos they're still some clips behind.

Anyway on our way to the mrt station...


u sure this guy works is California!?
anyway jus now i was reading the article at dance floor "third degree burn". God dammit! i tink the editor is damn biased can and really really shallow. Whats with the ah lians n masked dancers being scared of critics. 1st of all, ah lians can't dance...AT ALL. All ah lians do is pump n shake their booty; actually they can't pump nor do they really shake their booty..their idea of dance is probably jus as same as jewelry [ya seriously wad happen to the 2 yr experience of dance man]everybody knows this vlogger [my impression of her is an ah lian anyway] but i dun tink she can dance n she doesn't admit it..bleahz
gold costume jewellery hanged over black halter tops is so like
ah-lian-dresses-up-to-watch-movie-with-'steady'

i'm not sure bout the 80s lians but modern day ah lians wear black leggings with skirts n cardigans/puremilk/newbie
a few merits of masking yourself, like shaming yourself and knowing
you can get away with it

if there're a bad pt bout wearing mask then why's there lik 2 grps following their idea already. 1 grp during the 2nd auditions n 1 grp during the shuffle. So what if it's 1st impression...so typical singaporean thinking man
second conclusion right after they took off the jackets and feathers from
themselves, that's just how shallow we are
yup..they ARE shallow all right. white jacket muz b taufik meh..zzz.
seriously, other than the judges, is there anyone else in the production crew of dancefloor that knows anything about dance? *rolls eyes*
bah think i'm gonna spend the days aft cny watching battle royale [recommended by cheryl] n hana kimi...im wasting my life away..gah!