YES! finally im bloggin. I noe i'm suppose to b posting pix frm danzation but I have to blog bout this issue else i can't slp in peace. stupid men...i think he has amoeba for brains...FFFFFFF!
This morning i was suppose to buy b'fast for gene cos he's sick and i was being sweet =)
but b4 i headed for bishan i went to deposit my money cos its very miserable to see ya acc balance dropping the whole time cos ya lazy to deposit money in. n Basically rite..dere's 2 cash deposit machine near the bank. SO when both machines are occupied, a Q will form and there will always b jus one Q whereby once one of the user of the machine leaves, the nxt person in Q jus use the available machine. Jus in case u can't visualise the idea...here's a visual aid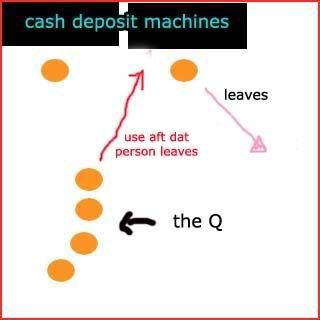 so apprantly today i was lik the nxt person in q; but the 2 ladies in fron were taking a long time to settle their thingy. Oh..another thing im annoyed about is there's actually a passbook update machine nxt to the deposit machines but some ppl dun bother bout it n use the cash deposit machine to update passbook without depositing money..wtf! ok..bck to the main thing. I was q-ing n msg-ing gene at the same time, when i look up frm my phone, i saw a man standing right behind one of the ladies...meaning lik this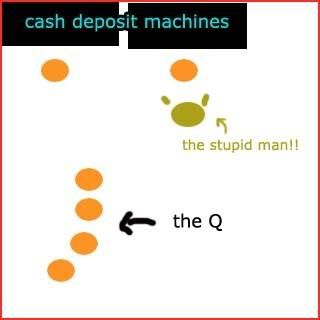 i was lik "WTH" but i jus confronted the man in a polite way anyway
Me: Excuse me

*man turns n gimme the stupid
-what u wan-face*

me: i think u can very well see the Q is here n not
there

stupid man: er..NO! one machine a Q each wad..i Q here
nth wrong

me: *getting fucking pissed* but can't u see there
already a Q forming here



stupid man: *act blur* no no no!




-then jus turn n pretend nth happen-



SERIOUSLY! i was pissed-stunned! i mean is there ever such a retared-inconsiderate person in the world! It's not lik he's the only person pressing for time. When i was confronting dat fella, many ppl in the Q were mumbling among themselves, there was even one auntie behind me who said
"i'm sure this is not his 1st time using the machine...hw can lik dat"
and dat fat ass pretend to b oblivious to the loud comments made the q-ing ppl. N the thing is, i was even done with b4 he left the machine..so lik wads the diff...will it kill to wait in the line.
I shld had jus walk up to the machine n push him away when he tries to walk up n use the machine. There'll probably b a scene but i guess i wun b the embarassed one...ARGH! why didn't i do it...SHAT! I HOPE HE'S BALLS ROT cos he ain't a MAN !
---------------------------------------------
Btw..in case ya getting me gifts rite..FYI, i've gt my new phone already! and lijiong got me my red jacket...lalala~ i tink my bro's getting my bag though..hahaz
9 more days to my bdae..haha!