ystd gene and i went to west coast park aft my lecture cos we're running out of places to visit so jus headed there to play..haha. We were lik 2 sua kus la! took 189 at clementi then dunno which stop to alight; then alight already i thot hav to wait super far to wcp from the bus stop so waited for cab; skarly it was so near, the cab meter din even jump..WTH! everybody have their moments la.
Had mac for lunch then slacked at mac cos the weather was super hot..as though u can melt anytime. Was lik fricking tired cos i slept late n woke up early for lecture; so i ended up slping at mac then gene had to entertain himself..haha.
went to climb the string pyramid..super long neva climb and i wasn't as agile as ever..bah! Din even go all the way till the top somemore, jus sat at the string platform. Thn there were thunders ard so we hurried down then went to play with the swing thingy. Lik u sit on this thing then u jus glide across back and fro. Was lik so stupid ! there were 4 of the gliding-thingy there, 2 long ones, one broken n one short one. The 2 long ones were occupied by kids so no choice have to use the short one; and i can't get up!! so i had to jump to reach the seat..grr. In the end my hand was lik numb..cos bua the metal chain.
got kindda sian so we jus slack at the grass field near the area. Then....we started cam-whoring..haha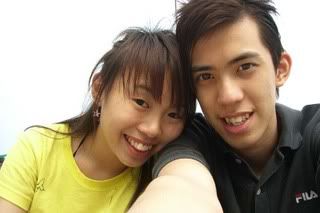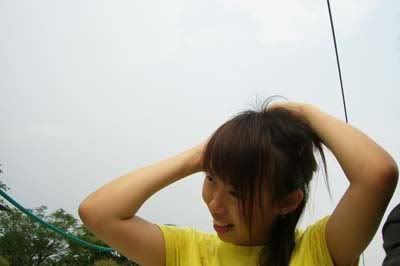 He sneaked a shot while i was tying my hair [-_-]"
i look funny..[@_<]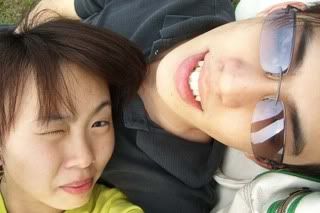 The 1st pic we tried to take lying down. But the sun was there hurting our eye so we stop taking pic lying down..haha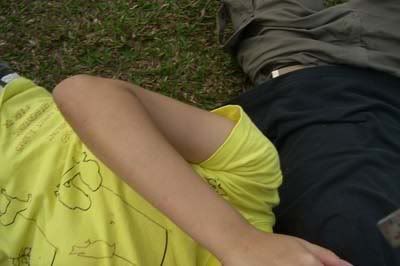 SUPER THIN HAND!! SHUANG!!
See the pig slping. Actually the shot quite unique i think..cos i amde the field looked a lto bigger than it actuualy is..muhahaa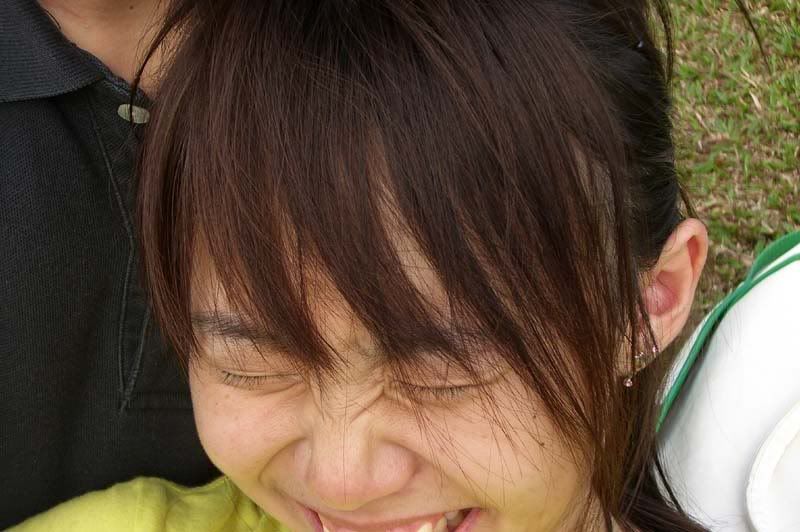 He di siao-ed me...zzz!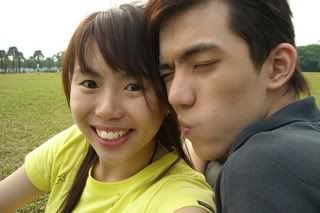 Funny pic again...bah!
We tried to be artistic but keep missing so we made do with this...diao.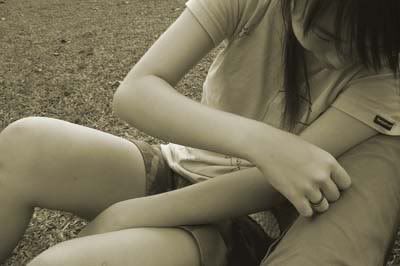 Emo pic: but i look uber thin...YAY!!!
This was my fave pic of the day...but i dunno why he said it looked wrong...zzz
Had full run today but b4 that went to gene's house watch "The watcher" keanu is still charming even though he's a psychopath [i mean in the show duh]. Then gene send me to mt-alvenia hosp bus stop on his bike. His bike is lik so fricking high!- i have to step on his footrest b4 getting onto my seat. But he ride slow la..bah. took bus frm the bus stop frm sch n i reached damn early...grr.
Full run ran pretty smoothly today. Ann wasn't ard though. I had mac [yes...again...i think i'll get fat] for dinner. Pretty bored today n i went home early.
guess i shld really go sleep...it's lik fricking late. b4 that... MY TIX ARE ALL SOLD OUT!!! haha!!!
but if ya interested u can always email
nraproduction@hotmail.com
for tix order.
2 more wks to production!!!
and a gentle remainder in case u din see it.
29 MORE DAYS TO MY BDAE!!!