yes i know i super duper hyper ultra fricking looooooooooooooooooong never update. [Actually is 6 days long?] So anyway...my week has been lik busy busy busy BUUUUUUUUUUUUUUUUSy! with GL training plus meeting and dance practises...good thing i din work this entire week but i ended up feeling all broke -___________-
and i'm sure u noticed...i've changed my skin! as in my blogskin! now it dosen't look all cramped up n it's simple. Of course i'm not done yet. Still nidda add on some stuff but i'll continue when i'm free.
So now i think i'll jus blog wad i rmb.
Wednesday 27th Sep
Had GL training in the morning. I wasn't sick so had campus run. campus run lik no kick...cos ngee ann seem to b so small. Imagine campus run in SP...phew~ AFt lunch break was Games. This week was grp 1's turn to plan n they were damn ditry! as in the games they plan were lik...ew! oil, planta, wasabi, soy sauce ..not jus eat...but roll in them...tard gross! so we end up smelling lik crap. i puke during one of the station games. It was zhong ji mi ma n the stuff the mix is really disgusting.
Aft training we showered then vannessa n i went for dance pract. Today ann picked 7 pairs to do stunts for freshie item and i ended up with alex...BAH! okok...he's not dat bad la. Actually suppose to learn how to flip today but cos when ann used alfred n sonia as experiment, sonia keep falling so in the ann only taught us the simple part,which is lik gals slide pass the guys' legs then they pull us up. Then gals hav to split...i super long neva split then was lik super pain! then wad made me feel damn sad is...alex split better than me! freak! and he's a fricking guy la!!! btw...initially everybody ...ok..mos ppl thot alex gt no strength then pull me that time sure buang but well...he's not bad...dere's one time he pull so hard i practically flew...bah!
Aft dance went with a grp of them go eat prata..yum! It was lik getting late...super uber late. So i'm lik asking anyone gonna take same bus as me...skarly...0 results! i was lik "shit la....i dun wan take cab" good thing wei jie was ard n he's taking 852 which goes to my hse too! ANd it was a good thing we pei each other cos BTP lock it's overhead bridge gate at nite n there's only one more way in....through some stairway. Then weijie actually wanted to go toilet but er...the otilet looked damn creepy so he dropped the idea. on our way home kept scaring each other with ghost story n i ended up calling my mum to come down to pei me take lift cos i was too scare...scare i see smth xtra.
And gt home fricking tired so aft shower jiu pi on the bed zzz
Thursday, 28th Sep
today nth much, jus went out with abe b4 going for dance..so i decide to put up camp photos!
These were taken during team dynamics while jeffery was briefing us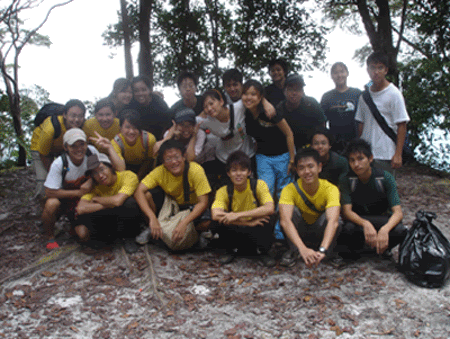 on the summit of mt panti!
T is for Terra!
ok dats all for today cos it's frigging 4am!! i nidda slp!! busy day again tmr...bah