Gene and i are 3 months! i was lik totally freaked out by our degree of telepathy! cos for almost a whole month im lik working on this postcard journal thing...writing what i want to tell him...DAILY! [wah..damn sadistic can...everyday have to think of new thing to write..nth to write also muz kill brain cells think] and hav to look for postcards constantly. So thats my card for him...27 cards in total! then! guess wad his card is lik?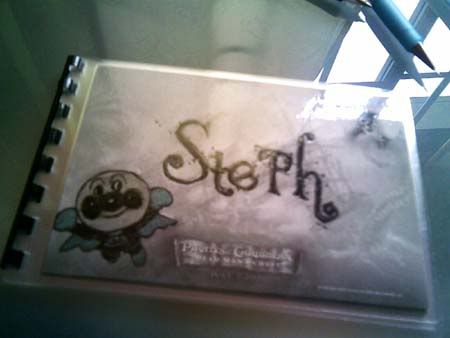 Pirates of the CaribbeanPostcards! POSTCARDS! lik...whatthetelepathyhell! and it's not jus one card...but the
whole set!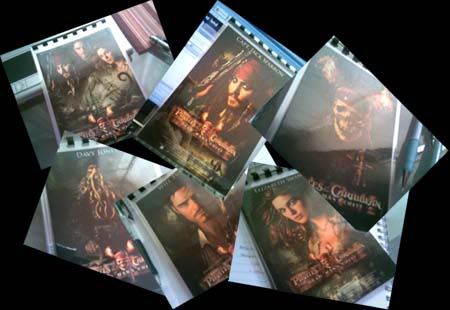 wahahahahhahahahahaa! but he din get it easily. He had to help the cashier get a girl's number before he was willing to open cashier and sell the postcards to gene [cos gene went to the shop near closing hour]
and he made stars....guess how many? [lookie! enough to fill a medium Absolute Vodka bottle..}
152
512
stars!!! and he was a noob to making paper stars...maybe now shld b very good i guess. 512 stars! tell me ...which guy out there would b so patient to sit down and fold 512 paper stars for their gfs. No he's not gay...he's jus being xi xin...lalala.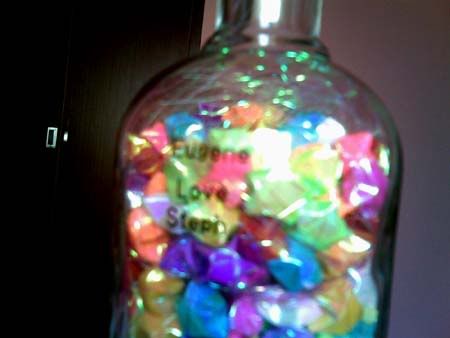 I'm one lucky girl i think...be very jealous of me girls..thats unless if your bf is equally good or better than gene... muhahahahhaha !! [i'm one evil brat]
anyway we watched super ex-girlfriend that day...lame movie but it's funny. Oh and...i saw my bro's dream girl. Cos gene and i went to bishan police post [report his lost ic] and went to j8's yoshinoya for chow. Well...i gotta admit my bro has good taste but er-hem...the girl seem to b taller than him and she looks way mature compared to my bro's
cute
child-like face =P ok...my bro is a good catch la...cos he is my bro..haha
Anyway gene spoils me...know mac recently hav those beanie babies?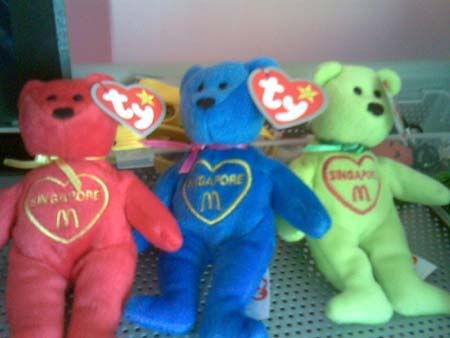 he paid for these 3 bears! ahahahahha ! i think i'll buy the rest on my own. There's the ronald macdonald bear but it's so strippy i didn't want to get it eventually. Waiting for the yellow bear though...hehe~
if u've notice...my photos are all blurry. That;s becos i still ahven got my camera! and i'm lazy to do photoshopping. Guess i really have to chiong work during my 7 week hols. But for now....MUGGING SEASON! to hell with final exams.....grr