Here are the pix Gene sent me bout the 190506 event [edited via photoshop by ME !! ]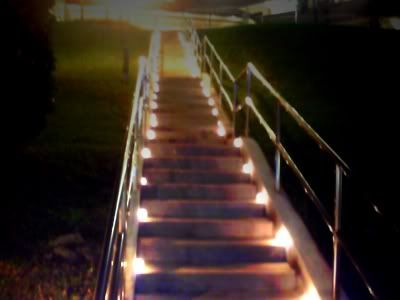 the 3-story long stairway lined with candles on every alternating steps...fricking nice!
The "i ♥ steph" candles looks lik this when lighted...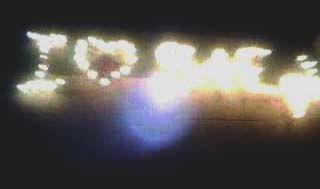 *pic extracted frm video. Due to improper verbal contents...i decided not to post the vid up =P*
and lik this when melted...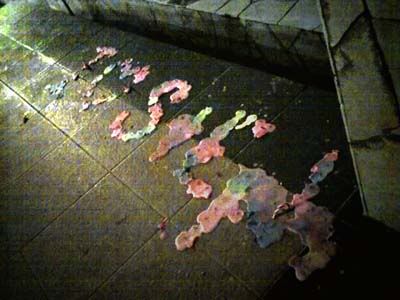 i tried my best to improve the picture but sad to say...it was taken by my fone's lousy camera in the dark hours of morning while i was going to work! so if u love camera fones...dun get Motorola V3i =)
anyway when i came bck frm work, some stupid kid ruin the wax by pulling 'em out so only lik 50% of it is left...stupid kids~
according to him...while he was arranging the candles, loads of ppl were looking at him [my blk has a lot of kpos...bahz] n he used a total of
179
candles. hmmm....i feel so xing fu now =X
ps:
qi was lik gonna kill me when i told her cos her guy din do such stuffs for her. I hope her guy reads my blog n think of smth else special for her. Come to think of it...all guys shld learn to do special meaningful things for their gals. Gals

love

to b pampered [i'm exceptional! i'm independent!!!!]

================================================
Now..to the main objective of this entry.
Gene n i went to watch The Da Vinci Code ystd...lik finally! b4 that, we intended to catch it at cine but the next available show is at 9+pm so we turned to Shaw house. Come to tink of it...I've not been watching movies dere eons...prolly 1st time in 2 yrs. We managed to get tix but its lik the 1st few front row but hack...at least we get to catch the show!
Had dinner at Pepper Lunch. i had the salmon pepper rice while gene had the hamburger steak. It's lik so fricking nice! all ur stuff are placed on this hot plate n u have to mix the ingredients n cooked them urself..some condiments on the side to add to ur wadevaUordered. i cooked mine so well...i tink it's better than my mum's cooking!
rite~ i was jus crapping la...my mum's cooking is still superior. Gene's hamburger steak was not bad too.
NOw now now...i'm really getting to the point why am i annoyed la!
in the theater, dere was tis grp of "foreign talents" [i thot so..guessing frm their cheena accent] sitting nxt to me. frankly speaking, i tink they're here for a pinic rather than a movie. They were lik eating non stop! frm the ads till the last min of the movie! imagine all the noise they made...rustling of plastic bags, sucking on the food they're consuming, cracking of gua zi [ya! the lady right nxt to me was actually eating gua zi la *pengz*] That's not all! She din set her fone to silent and she started talking on her fone lik nobody's business. As in she was talking damn loud. Even her normal conversation with her fren was so loud, i'm sure ppl sitting 4 rows in front n behind her can hear every word she's saying.
Gene suggested that she grew up eating microphones...haha. It gt so bad, this fella in front shhh-ed her too. Ltr in the movie, she started eating again..i jus turned n glanced at her while she glared at me with a "u got a problem" look...EVIL! she seriously oblivious to the annoyance she's causing n she's ruining her country's reputation [hmmm...i doubt the country has a reputation for good, considerate ppl anyway].
I'm not trying to generalise though but working in the hospitality line has exposed me to diff gst-es n gst-es frm China hav the same characteristics
- snobbish
- arrogant
- expects a lot but gives very little
- rude
there's even cases where my frenz tell me hw rude the China ppl were. Self-centered ppl...hw annoying. It's lik, i dunno hw things work in their country but since they're here in singapore, can't at least show some courtesy instead of keeping their attidude. I'm not saying all china ppl are lik dat. I'm sure dere's definitely a few exceptions...i hope...
oh well...anyway...Da Vinci wasn't really what i expected. Reading the book is better...that's my advice. The only good things that comes out of it was Tom Hanks n the albino who looked pretty cute in certain angles. haha
enuff of that already. Today's NRA was so fun! we did locking! Then aft Nra, ivan; david and i stayed bck n practise our moves. A senior by the name of ken came along n tutored us a bit b4 his lesson started. The guys tried to teach me baby freeze but! i was afraid i may sprain my left wrist while i lifted my legs so i gave up...bahz! went home rather late [my fone's batt went flat! so sian-ed]. Coming home to good news to! aft bathing and working on my scientific presentation while waiting for TLS grp ppl to come online, abe told me xxx had repent n is now helping us with the powerpoint presentation! yay! ok...i'm no longer that pissed wiv her anymore! well now i hav to chiong to prepare the speech for TLS...bahz!
sidenote: my fricking msn wasn't wrking well n i gt disconnected frm my grp...crap crap crap! n i'm vry vry vry vry hungry now...i'm craving for famous amos cookies n instant noodles...