sch was fun! espcially when there's magnum training. damn i'm really in delimma wad to join. magnum seems fun n dere's gymnastics but NRA is hip hop...so my genre! oh well. ystd we had pract session so we were required to bring our lab coats. aft the lesson i gt really bo liao-e n suggested to the gals...guess wad we did...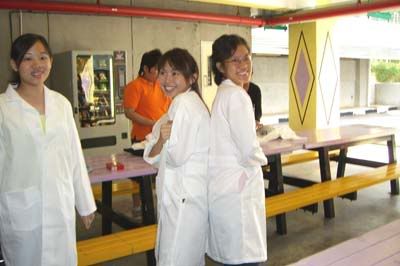 abe n i are in position in
5
4
3
2
1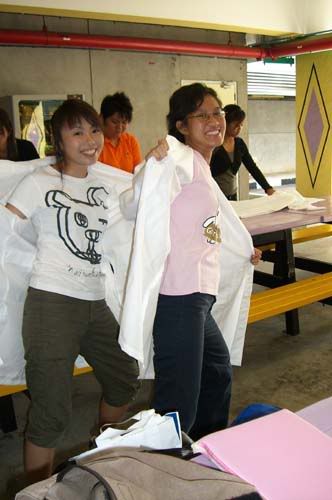 and we flashed!
anyway..b4 we move on to mre flasher pictures...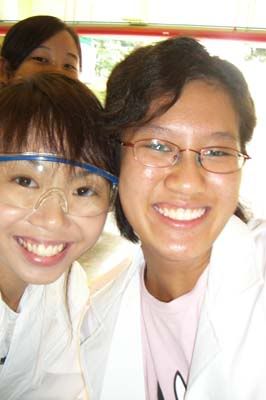 hre's us again! haha. the goggles look too big for my face..lol
ok ok...main point...
look at this!!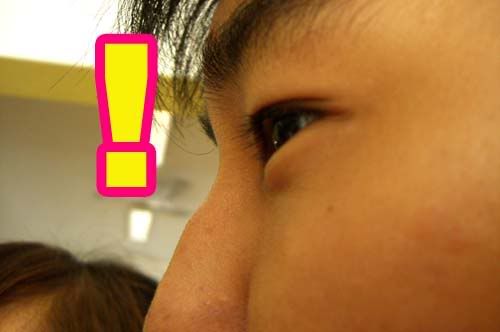 so thick, relatively long n relatively qiao. YES! they belong to Joel See. fricking gay! i tink long + thick + qiao eyelash are wasted on guys. wadeva they nid them for. Jo's not the only person i noe who does own such eyelash. CJ too. he's is lik damn qiao can. anyway aft dat jo kept going ard saying he has sexy eyes....sheeshz
now...may i present to u...flashers on 1F07 in LSCT..
karen is amazed at my big "assets" la [jus kiddin...i'm very poor...haha]
and we flash to joel [from left: me, abe, mei qi]
dun u tink he's bloody lucky to have 3 gals flashing to him...haha
and of course jo flashes to us...but our reaction wasn't wad he expected i tink..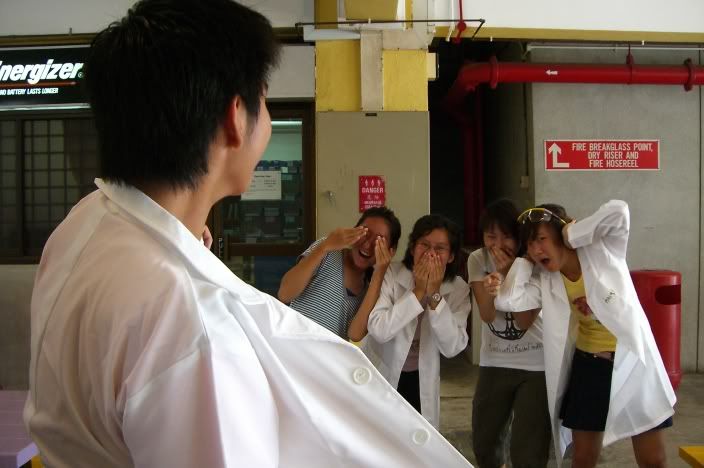 anyway aft being kuku for dat moment we headed for SIM for brunch. ANd we saw another bunch of GLs dere. tell ya...mei qi n i were so pissed we gt played by 'em but we played the same trick on time. according to mei qi...we were damn convinicing.
wad happened was the seniors crapped with us [one by one] dat some senior wanna jio us..which is not true but both of us were lik "hmmm...orh..." reaction.
n for them..we jus created a ficitonal character n targeted the mastermind...lol. seriously we were convincing...muhaha!
afternoon there was magnum again.so fun! we learnt this new stunt known as the elevator. 1st u do a PA stand n the base will raise u to their chest lvl. going up was ok...coming dwn was shitty scary. flyers are swept off their feet n bases catch them! it's lik u're jus standing up dere then the base jus push ur leg outwards n u jus fall straight down. Scary but damn fun! i hyperventilated on the 1st attempt but asked for 2nd time..haha
aft training we went for prata near beauty world [ so much for losing weight ehz....] damn chaotic cos the guys were fricking noisy la! took us 20 min to settle dwn n order makan. n now...duluge of pictures~
ever seen crazy ppl? dere u gt it...us!
we practically treat the prata house as our own la...blahz!
oh recently...dere seem to b a lot of gay activities....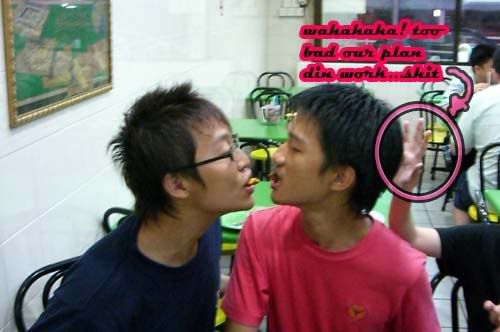 rite....they are perfectly fine straight guys! haha! sam n jan seriously look very gay though. at least for wei xuan n alex...only alex is acting. jerrisk n wilson were jus passing satay ...with their mouth. imagine ifthey really did kissed...bahz~
ok...i missed out an exclusive one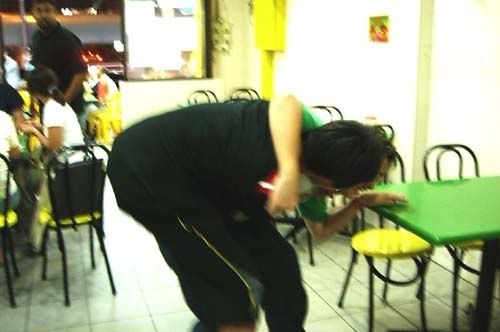 well...jan does seem agressive...haha see the indian guy in the bckgrd? he seem damn shocked...lol.
our views on the gay issue u ask. we....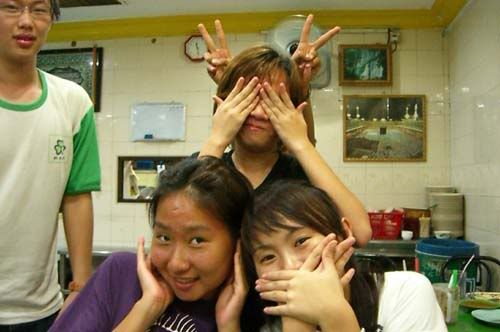 get the picture?
anyway...mei qi left ealier cos she wasn't feeling well..missed out all the fun..hahz
that's brand taking a picture of me of me taking his picture...jerrick and wilson so xtra though.
i got really bored n started taking random pictures
waste of memory space...nvm...at least for the nxt pic...
i gt a shot of john's chou luo de yi mian...haha! nah...i dunno wad he's so shocked bout but definitely gotta do wiv wad charmaine said...i wonder too.....
according to majority..fifi looks lik a desker duck in here..lalalala~
time passed n we got really really really bored so we ended up fighiting...
no...jerrick is not not a gentleman...jus that none of my guy frenz treat me lik a gals..lol
an eye for an eye...at least mine seem more painful...haha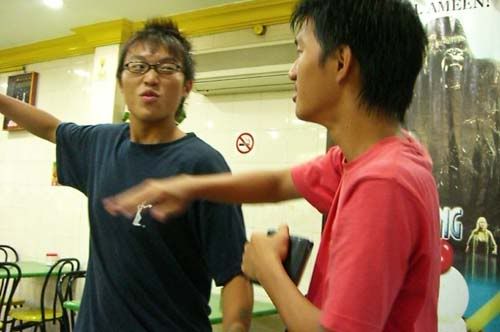 for one thing...i tink jerrick's expressions are all very classic...haha
bahz~ ended up getting home very late lik 12mn...and i only slept at lik 3am...when i hav to wake up at 6+ nxt day. so nid i say...i feel aslp during lecture. Good air con n comfy chairs wad....lalala~