The other day at jazreel's house, i jus casually used her hairband to hold my hair up...and i pulled back my fringe also la. Then cher n jaz start laughing at my humongous forehead -_____- then jaz said..
Jaz: I think only ya true friends can truly call themselves your true friends when they have seen your forehead
which is incidentally true because of the vastness of my forehead, i usually use my bangs to cover them and it's only over my dead body that i will show it to u at random. Cos its too scary already...imagine the overwhemling vastness...woots~
i mean there are certain among of "ugly" side of me that i'll reveal according to the people i hang out with la so basically i would say..
Friends:
would have probably seen my fat ass photo and know i burp quite loudly at random
in case you are really my friend and now u start to doubt cos u haven seen my fat ass picture, here it is
ya i know i post this photo lik a lot times cos i couldn't find my other fatty photo...but i found one more jus now but it couldn't really show my vast size but still...quite laughable

*circled in red is me! **
i think that was p4 or smth
i wanted to find my sec 1 class photo cause that is the ultimate unglam...imagine me fat with bangs and thick-pink frame specs. Then the classic sec sch uniform...white blouse and ours is dirty green skirt...
argh!!
Good Friends:
the above and bad eyeliner day
Best Friends
: all of the above + me in my ugly specs and unglam home clothes and 0 make up
True Friends:
Probably show them all my unglam side and im comfortable with it
eg. jus-wake up face (damn unglam cos the face is all swollen and u got eye shit stuck in ya eyes)
Ok with showing them my gianormous forehead and if they laugh at it i jus "aiya! wadeva!!!"
OK that aside. Of course i don't judge closeness of my friends that way la. There's more to jus how much unglamness i reveal to them. And its not really accurate cos
- all my chinese dance friends and junior saw my vast forehead before
- i have true friends whom haven seen all my unglam side (hopefully they dun have to though)
ya basically you get my point
actually im jus using this post as an excuse to post my fat ass photo again lalala~
oh speaking of friends...CK JUS WENT INTO ARMY TODAY!!!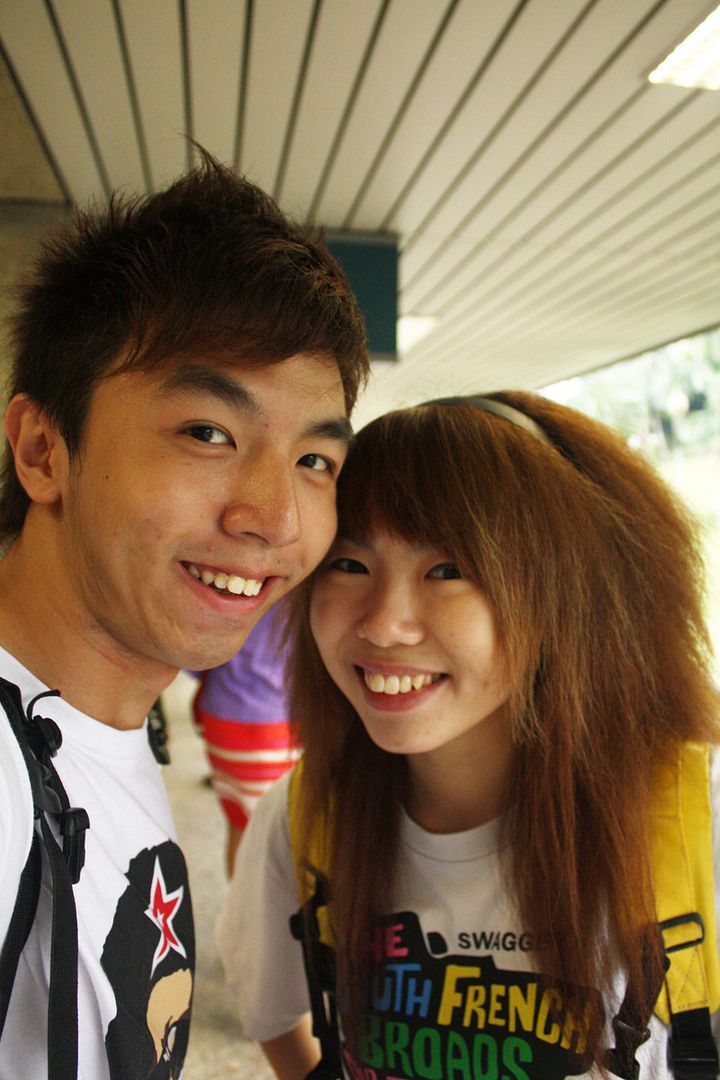 This is ck with hair
2 weeks later we will see him botak! woohoo!
*coincidentally this is the 1st photo with my lion hair! woots!*
anyway my hair has already tamed a bit..when it was jus new...it was lik va va voom!!
i kindda miss my normal hair now~ argh!! i wonder how long does it take for me to outgrow my mane lik seriously
OH! caryn nikki and denyse! i was looking through taiwan stuff then i realise i super miss taiwan!! actually i jus got craving for steamboat! hahaha!
Currently i'm addicted to Batsu game! its the infamous cannot-laugh game where the japanese people are punished if they laugh
ok actually i already lost my feel to blog already cos it's 3 am now
*abrupt ending*
p/s: come to think of it there's no proper way to end a blog post right?