Literally a very lifeless day.
i woke up at 1+
cooked my brunch cos i was too lazy to go down buy or call my mum to help me buy
yes i cooked my instant noodle with essence of chicken and rice wine. I seriously hate the taste of essence of chicken but good thing can't really taste it and the soup tasted damn nice..lik the taste super gao and the egg has the rice wine taste..nice! And i love chu qian yi ding's seasame oil noodles
then con't making the rag doll for my one year old niece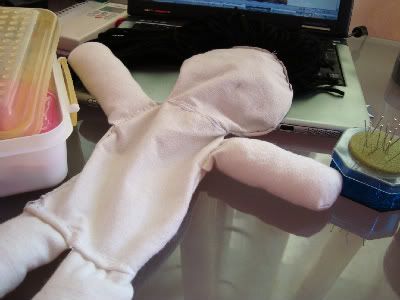 It's not voodoo-ish k! and i hope it turns out fine else i'll break..i hand-sewn everything together! i noe its hard to believe i actually do such stuff..in fact i love baking, cooking and making stuff..i do have a girly side of me lalala
spend the rest of the day doing project report, watching d gray man (woo i love that anime..allen is damn cute) and watching tv.
it's gonna bea no life day tmr..thank god for dance..
ahHHHHHHHHHHHHHHHHHhhhhhhhhhhhhhhhh! so no life. ask me out ppl!!
and
HAPPY BIRTHDAY BBOY JANGKAHWI JOHNATHON ZHANG JIA HUI!
now that ya 21..don't bully kids lik me anymore =DD
anyone who knows html wanna help me with my blogskin?
-i have sudden cravings for cream puffs, shilin chicken and shokudo's chicken meat ball cream pasta-