Wah Damn sian la!!!!!!!!!!!!!!!!!!!!!!!!!!!!!!
I injured my thumb on sat during bboy rehearsal! dunno is sprain or vein/nerve problem..went to the sinseh also dun understand what she say. But damn cui lo got internal bleeding ten the sinseh have to pucture my skin to extract the blood clot. Walked past my sec sch today while looking for a chi sinseh..super huai nian lo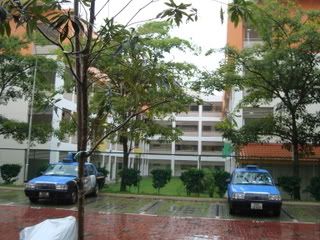 level one of this part of my sch use to be chi dance studio. Its like so many sec sch memories there lo and the table outside staff room etc...ah i miss sec sch days T_T
anyways....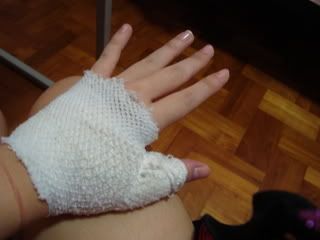 it sucks to have hand injury...super bu fang bian lo..sucks

anyway i finally met mascara last saturday! lik so omg lo he botak head!! but felt quite bad that i laugh at him but his head damn nice to touch lo! u know those botak head or guys the hair cut untill dman short then the soft soft prickly damn nice to touch =XXXX watched hancock with him then he fetched me back. Bloody hell 1st time he ride so fast lo...and i super feel damn insecure la cos i wasn't sitting lik very close to him n i only hanging my dear life on a piece of plastic. Super scary then he just tell me
"why gt fast..always lik that de ma..u'll get used to it"
some kind of bro!!!!
On sunday went to support my juniors at their event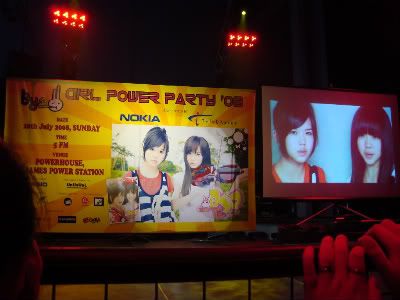 fricking piss off lei!! it's lik By2 event but so many JJ lin and lin yu zhong's fans go somemore all stand in front waste space only bloody hell! somemore they all keep grumbling bout by2 lik wtf! argh!

anyway during the event there was one part they gt 2 ppl to go one stage to dance one of their mtv dance then the winner can get a N78..and i got it muahahah! but my point to go on stage jus to talk to them la..lik so ass rite..somemore i'm gonna sell the phone la haha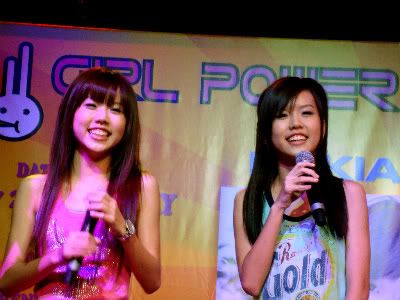 so proud of them! to accomplish that much for 16 yr old ain't that easy. just hope they'll make it bigger . I know how to differentiate them..can u? lol!
met my other dance juniors also..looking at them made me realise im getting old..sian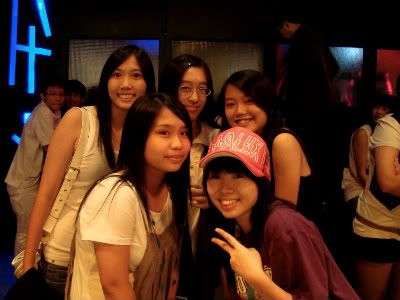 Met cher and jaz after that for dinner at cine..SHOKUDO!!! wah the meatball pasta..been craving so long la!!
cher has the bacon cream pasta n jaz had some chicken asparagus tomato cream pasta..which taste pretty sucky after it turn cold haha. then i ordered the ume soda (in pink) fricking sucky lo!! it's drinkable but just taste funny..shld had jus ordered the apple vinegar.
Then sun i machiam dress lik butch lik dat so..

jaz is my gf hahahah! gt look lik les couple bo haha

then went BK to chill and had the chocolate pie for dessert..super budget but well it's nice! then kept cam-whoring also..mainly cher n me though haha


the dope chocolate pie!
oh note the 2 lens on the table? i helped cher break the lens out from her geek specs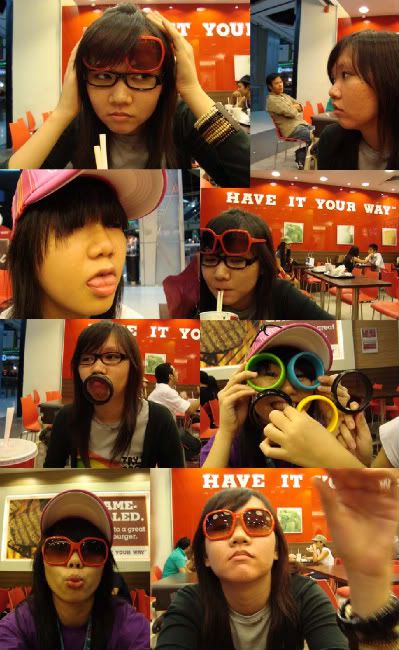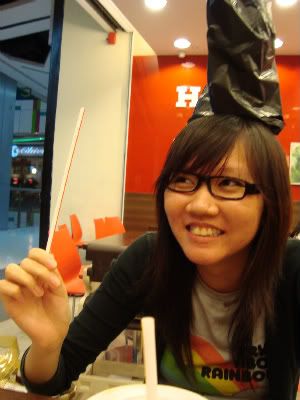 Cher's a wizard!
ahh another week is starting..my parents are in japan

so muhahahahhaah! ask me out ppl! i have no curfew!!! lol!!!!!!!!!!!