and all i did was work. So loser..damn.
it's like 1am+ now i'm suppose to sleep cause i'm meeting abe and nikki later to go school together.
can't believe my holiday jus went by like that -sigh-
anyway i just saw my timetable and i jus realise i could had possibly gotten the worse time table ever
on mondays i'll have lect full day, but if it's an odd week, i'll have
3 hr break
between lect...fricking 3 hrs!
on tuesday i'll have
4 hr break
on even weeks. 4HRS! what the hell am i suppose to do in this 4 Hrs! rot to death i think.
Wednesday is pretty mad cos i'll have
5 whole hours of immunology
thursday is IS day...boring
Friday is dooms day for me. Imagine being stuck in a lab for 3 hrs, break 1 hr, back to the lab again for another 3 hrs. YES!
IT's CCTA and INAC PRACT TOGETHER ON THE SAME DAY.
dear guan ying ma please give me strength to survive my timetable and this semester.
anyways, both abe and nikki came to find me at the last hour of work. Then after that went to the shop nikki's friend work at and got a scheduler! and it's damn pretty! becos...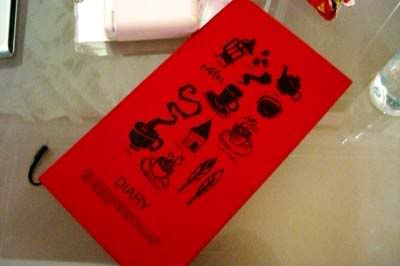 It's red!



damn cute layout


Nice empty pages with pretty pictures and words on coffee!
Ok it may seem uninteresting but only pretty nice notebooks will get me started writing in them.
After that went to buy bubble tea. While we were at it. It struck me and nikki that abe's hair is very off..lik way off. Cos she rebonded her hair again..and her hair is lik super hella thick..so it became just lik a lion's mare all over again. So then i just told her
"hey abe..i think you should cut your fringe short "

upon hearing this
nikki join in too

nik: ya i think if u've got shorter fringe will look
better la
abe: hmmmm.....
me: Aiya later go my house i cut for you la
at this point of time i bet everyone thinks abe rejected my offer right? lo and behold ya all wrong! abe decided immediately cos after much psycho-ing from me and nikki she was somehow convinced that she'll look better with short fringe. And no..she didn't doubt my hairdressing skill...i'm so touched *sheds a ear*
but alas! we forgot to take a before photo but it looked something like this...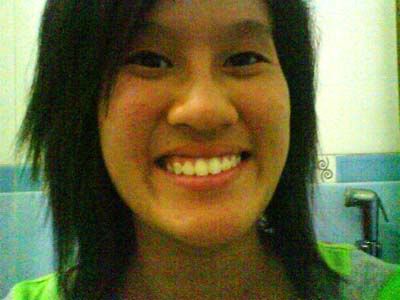 *photo credits to davin*

but much worse cos the rebonding effect doesn't work very well on her. She looked somewhat lik a straight-haired afro..i think.
after much effort from me and nikki...now abe looks lik this..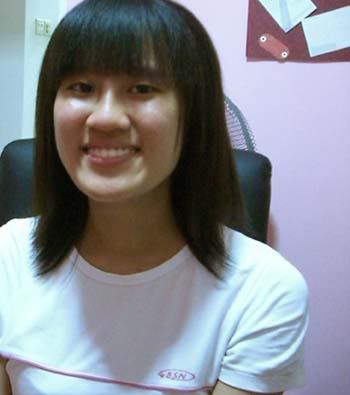 it's lik so ke ai can if u see rea life. But in the pic she looks like Cleopatra [is that how you spell it?] the egyptian princess/queen.
hmm....i seriously think she looks better now...at least she looks more refreshed =DD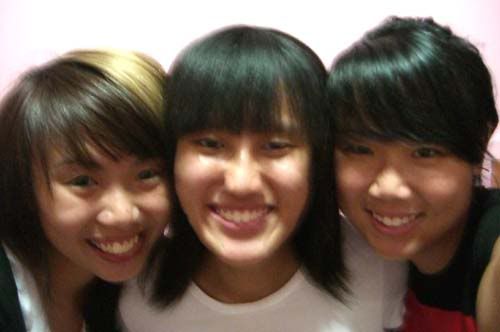 we're beautiful it's true =DD


[not being thick skin. but the Dove campaign says girls should have more self confidence..lalala]
yes i'm aware my highlighted patch has turn into a shade of ah-lian-kind of gold. I nearly wanted to kill myself when i saw a bunch of full pledge ah lians
[the dressing, the way they walk,talk...hard to miss]
walk past the shop and one of them with the same hair work as me. Think i'll go colour it back to ash again during the weekend.[or should i turn it white?]