was damn lay back. Cosmonday is lecture day and basically most of the lecturers wouldn't go into details of the lecture cos
1. the bookshop is so packed with people all the time u wouldn't be able to get your notes and the qeues are so damn long all the time
2. They just do introduction of the module
All but one lecturer quite slack. The sole lecturer is my bioinfo lecturer. She practically went into the lecture. But well i couldn't print the notes cause i don't have a printer and the emart is too crowded to photocopy the notes. So i just spend the whole lect doodling on my scheduler.
Anyway most of the people thought abe's hair is not bad! so proud of my work..lol!
During immunology lect, i learnt we're gonna work with white mice! lik swiss albinos!! whoopee! but the thing is each group is given one mouse and we're suppose to take care of it and not let it die. At the end of all the experiments. We'll have to skin them [after they're slaughtered by the lab people.] and use the
_skin
spleen
in another module.
pls remind me not to get too attached to my mice...
feeling bored, joel drew this during Imm [immuno] lect...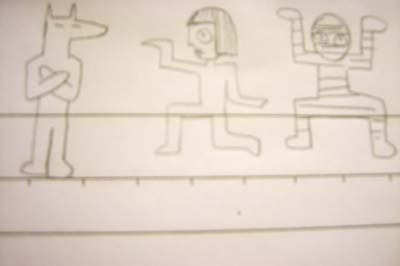 *can't really see properly eh...*

ya it suppose to be abe la. He jus added in the dog and the mummy to add in the egyptian-feel


oh then during dance today, Ann continued the choreo for "the way i are"
i super love that song can! and it's my dream to do a dance to that song. Then last wednesday i didn't go cos my ankle was injured so this week i was lik hoping she wouldn't change choreo and jus continue it. Heng heng she did lo! woo hoo~ and i managed to catch the steps from last week cos she went through again!

but for that, think i kindda paid a price cos my right ankle was pretty strained lik after the lesson =(
Gonna turn in...tmr will be the day with killer break...4 hrs! omg...