YES YES YES! i qi dai yi jiu de yi tian...is finally here! from today on i won't have to do anything bout study for 2 mths! weeeeeeeeee~ My exams are so over! all i do now is to pray that i pass everything.

anyways, rite aft my Bchem paper ystd, went to colour my hair with cheryl at my cousin's shop. I wun say dye cos i highlighted my hair too.

so it's lik from this..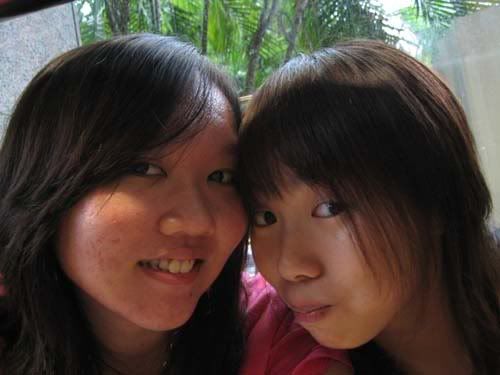 all-dark coloured hair to...
* BYE BYE Dark coloured hair!*
THIS!
-
bad quality pic becos of my hp =.="
-
can't really see it form this pic but i've patch-highlighted my hair ash. lik something i wanted to do since aft o lvl but bcos of working at ritz carlton so i din do it. FINALLY! oh and becos of that..that part of my hair gt bleached. THEN I CHUA TIO LO WHEN I SAW THE BLEACHED EFFECT!!! i thot i look lik one of the street fighter character la!
can see can see?

walked ard with cheryl ard square 2 aft we're done and i bought 2 pair of ear studs..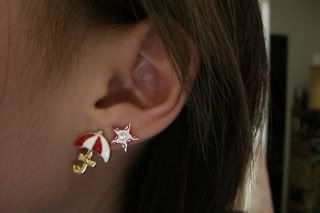 i think the umbrella damn cute lei
speaking of umbrella. You know the song umbrella by Rihanna. Lik everybody is listening to it that one? I think the song quite irritating la! u know the chorus keeps going
"under my umbrella ella ella eh eh under my umbrella ella ella eh eh eh eh..."
in a monotonous tone somemore! kindda makes one thing the song writer was either high on marijuana or jus being lame..but the other parts of the song pretty ok though..
so now with hols...it's gonna be DANCE, GL Trainings, and slacking all the way! aft all i've work so hard this sem!
hey hey i know wad u guys thinking. Comfirm think "whr gt! ya lik super slack!". not true..trust me..i worked very hard =)
ITS HOLIDAY!!!! WHOOOOOOOOOOOOOPII!!!
ps: i am not an ah lian