shit man! i think i spend lik a lot today..rawr! no$$$!!!
these are wad i bought today....
from the following:

- the pink tee
- the checkered shirt
- the denim shorts
- the calvin klein boxers
- the gold plated necklance

guess which is the most expensive.

some guess the shorts rite..no!

the checkered shirt? no...how expensive can 77th st clothes get
lol

the calvin klein boxers? 3 for $18 at far east

all down to the necklance and the pink tee....

and the winner goes to..

the pink tee dat cost 46bucks from topshop!
frankly i tink it's quite expensive for a t shirt. but i really liked the motifs so aft much consideration [actually only 3 mins] i decided to buy the shirt...cheryl also bought it..lol! actually i saw another top at topshop too but it's lik superrrrrrrrrrrrrrrrrrrrrrrrr ex! it's lik this grey long sleeve top with super loose collar..going at $89 bucks!! sad..super no $$...nidda work man!
anyway..today went out with cheryl n met with jaz also. Cheryl was lik drilling us the whole time at sakae. becos jaz n i ate very lil. lil lik the 3 of us combine plates also not even 30..lol. Met gene awhile cos he came to sakae to find me..then lik less than 5 mins he chao liao..super miss him!
aft makan cheryl n i went to town to shop while jazreel goes for tuition. aft shopping ard town we went to suntec jus to buy donuts...siao rite haha...but it's lik when u carry the big orange box..walk also gt wind..lol. which is true!! Try someday. U go buy lik 1 dozen then u walk ard..ppl will stop n stare..not u but the box of course..lol
BEHOLD!


the treasures within this orange box!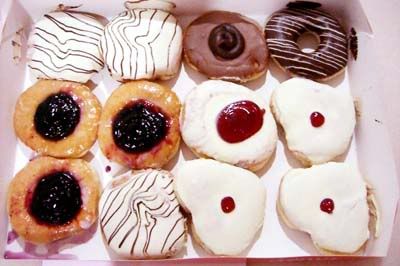 12 orgasm-inducing donuts!!!
U noe the one in all white then gt one red dot. thats the strawberry heart. taste the same as the strawberry with white chocolate. im lik totally in love with 'em!!! the strawberry jam taste so real! i mean ya lik really eating real strawberries! doesn't have the artificial taste get wad i mean. the blueberry jam one is very nice!! im so addicted to jam donuts now! haven tried the others yet. [double chocolate, lotus mocha and min chocolate] shall gobble them up for breakfast later..wee!!
last pic of the day =)