Was so busy with the STUPID CATS project that i dun even hav time to blog bout the dancefloor. Anyway CATS is the dumbest module any NP student can take. It actually a campus-wide module every NP student hav to take in their 1st yr..fricking damn thing that waste time.
So anyway i nearly lost my voice too due to all the screaming on wednesday...too long din trainmy voice..no gl training n no idol-chasing..haha. It was lik so long ago since i went to mediacorp can! was lik so happy to see my old idol-chasing frenz again cos they were all waiting for pss contestants. And Dancefloor ticket very pretty!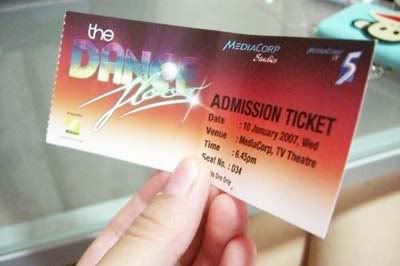 See...and they even have seats numbers on it. back in my singporeIdol 1-projectSuperstar 1 era also dun hav then also end up anyhow seat...muhahhahaha. N singaporeIdol n projectSuperstar tickets are so not pretty...damn ugly actually..its lik the normal mediacorp ticket with the blue n green thing...ew..
Oh then when sonia; eve n i entered the theater and sat at the "NRA" region. There was this ultra big grp seat next to n infornt of us..turns out they were supporting the grp "2". Yes there's really a grp call "2" in the competition cos its jus 2 ladies. idea ah? Actually i tink NRA had quite a small portion of seat only...gah!!! Nvm when the competiton goes on...more n more ppl will support Groove Avenue and Snaap...muhahahaha!
Btw..the voting system of the shuffle rounds are:
8 teams display their choreo in each shuffle episode. So there will b 4 shuffle episodes cos there's 32 teams. THEN! in each episode, only 2 teams will get thru! *screams n shrieks of horror in the background* yea...ONLY 2 TEAMS!!! One would b the judges choice, the other would b viewer's choice. So u can only vote for one team to get through..argh! However, there'll also b a wildcard show but only a few of the outlisted teams will b selected. So there willb 24 teams that are not selected rite..i tink only a few will b chosen to join wildcard to compete for top16.
And here's the breakdown of each team's dance piece on that day.
2 :
If u lik Chicago, u'll probably lik that.
Groove avenue:
Alex's choreo was damn dope la! but judges said they dance without feel. BAH! i tink that's a trend among all nra students cos loads of ppl commented on that point of us already...gah
E-square:
Contemp. ballet. i thot it was ok only. Cos they looked lik they still have problems syncro-ing. Li Lin the "ballet" judge didn't really found them good i think.
Dance Stomp:
3 gals doing samba. Only one was good. They don't even look lik they were dancing. One of them really very jia lat. As everybody know every dancer have to watch out for their posture..that gal practically hunchback-ed..really unsightly. And they can't shimmer -_______-" Think they gt the worse comments that night.
Street diciples:
Kindda american hip-hop style and i thot they were really good! but seriously...the girl in the group shld learn to work out her expression. SHE KEPT BARING HER TEETH ALL THE TIME!! not smiling..u know lik when ppl wanna act fierce dat kindog teeth baring..oh well u'll see...but it was damn scary! Eve was lik pentrified by it..haha
My Tango:
Old couples tangoing n rolling on the floor...i thot bad..
Jus the 2 of us:
They did modern contemp. They were quite good too i tink.
Soul Fushion:
their choreo was very technique based so it wasn't really interesting but still their techniques will really good.
Yup..there u go..the 8 teams i saw on wed. Thurs was Snaap's turn but i din see cos i was doing stupid cats proj...grrr. Can't wait for The Dancfloor to be aired on tv!!!!!!!! I wanna see Snaap's choreo! and of course all the funny grps at the auditions I mean lik any competition lik this there always joker who tried to b famous n pulled out funny stunts eg. steven lim; banana man etc.
and..
HAPPY BIRTHDAY PEGGY
!!!
when i get bck frm her bbq i'll blog bout me&gene's 8th mth..hehehe