BAH! sch started already...for me! gene only start sch next wk...gah!!!
anyway...
I PASSED MY IPC N MICROBIO!
weeeeeeeeee~ i tink i owned Dr Kueh. Cos i din study for IPC; neither have i done any of his tutorial or attended all his tutorial sessions n i slp during his lect...i still managed to pass!
*flashes a smile n teeth twinkle*
For Microbio, i only knew my marks cos Dr Ho fricking din giv us bck our papers...WTF!! lik how i noe whr i've gone wrong...ROAR! but still...i passed!! at least a B!!
i tink i'll ace physio...anybody would hav...so fricking easy!!
Did CATS proj aft sch. Seriously...CATS is the dumbest module any NP student will ever take. Its mos meaningless module that waste our time n resources. In worse cases, lik me...you'll get hypocritical teacher. Say untill here i damn pissed off!
there was some period, SuHua [my clsmate] n I would lik go out of the clsroom, sit outside the clsroom n complete our part of our project. Then..dat stupid king kong..anyhow talk cock..during one lesson he said:
" i know of some students who always lik go outside of cls then neva do project.
But don't worry..it's not any of u in this cls"
FREAK! lik so obvious is us can! "not any of us"...pi la. Can i slap him..argh!! Then can i say
" i noe of teachers, who are damn bias to BA students, maybe hate LSCT students. Den always smile smile smile

[tink very cute ah...pui!]

act gd but behind student's back stab them real hard..damn hypocrite. But don't worry i not talking bout u"
then i'll add on an innocent smile....
stupid king kong! REALLY! he's biased to students from sch of BA n doesn't really giv us LSCT students any shit...ASSHOLE!
THEN!! fricking sianed! actually this Fri i would hav a performance but in the end i din..why? Because i had some thing on on fri n in the end the thing was cancelled but when i told my senior i could finally make it..too late le..they replaced me with some other seniors...AHHHHHHHHHHH~
you know lik hw awful it feels lik u can't seem to do wad u like..hai. We'll b doing chambermaid dance lo! i miss dat choreo la! argh! then also hav "pump it: choreo. Though i din dance..i learnt from jaei..the dance damn cute..haha. In the song "Pump it" Fergie will have lik solo then gt beats in the back gr rite..we move with the beat..so the steps are really sharp..but saddened...im not performing...argh~ Oh well...nvm..still gt lesson =D
and....MY ELVA CD IS WITH XING!! since sat untill now!! i haven gt it bcK!!! T_T . ELva my idol! i haven listen to her new cd yet then already pass to other hands le ..WAHHHHHHHHHHHH~~~
anyway..ystd gene n i went to snow city. SIAO LO! i tink it's kinda waste of money la. It's lik fricking $12 to go in and we still have to rent the gloves at $2/pair. $12 for one hour...u may thing is not enuff..but when u go in..u'll noe hw sian is it. The only attraction in that place is the snow slide. It's ok sliding down but when u look at the Q...u sian 1/2..very long q..then while Q-ing u'll prob get frozen..my nose gt so cold..it was even painful to rub it. But well, my face turned a nice bluch when i got bck out in the warm...hehe.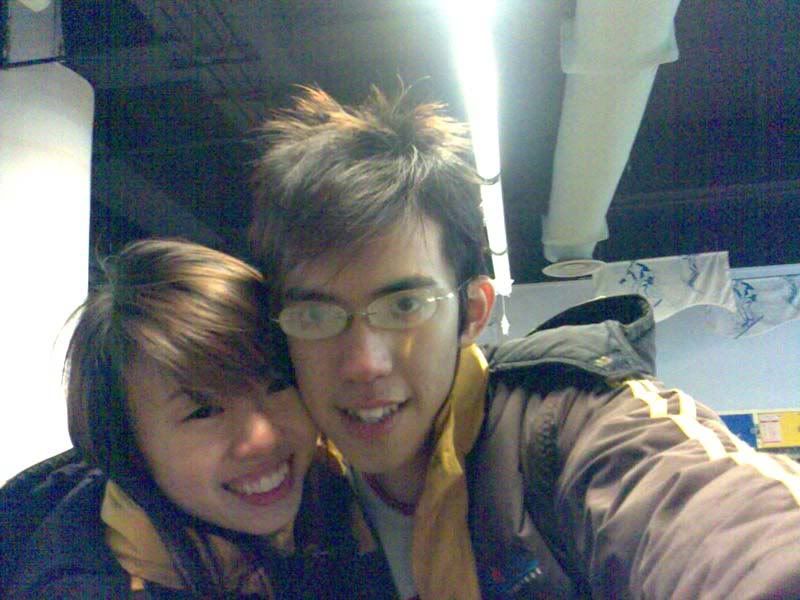 Genie dear n me..i dun look lik me n gene's specs are fogged..haha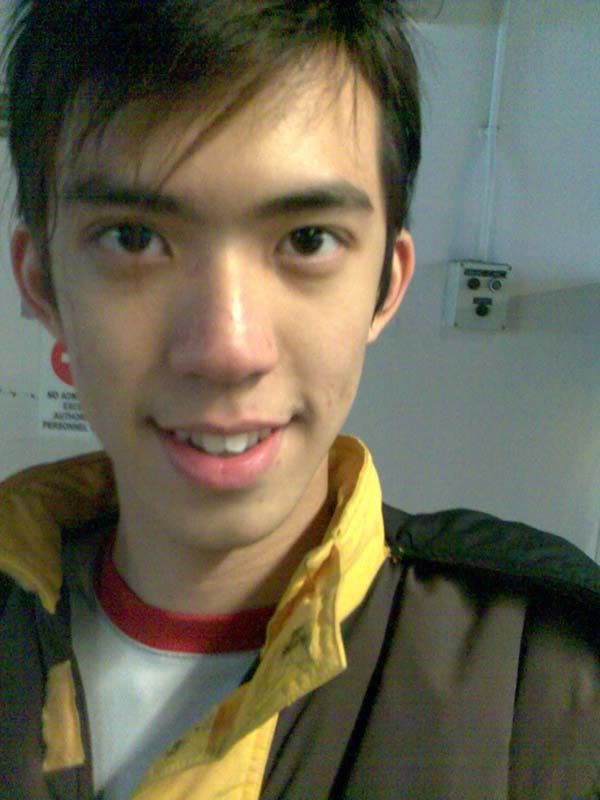 my cuteeeeeeeeeeeeeeeeeeee~ gene...look lik boy boy..keke


THen went shopping at bugis. U know its rare to hav guys who hav fashion sense for gals. I bought a dress Gene chose for me n it's really nice..nautical stripes..i lik =) Then help gene chose a new blazer cos he ain't gt any black ones..only brown ones..haha.
Headed down to Far east aft dinner cos i wanted to go long sleeve shirt. Then at dat shop while i was looking at the shirt, Gene suggested i try this super bare back top....SUPER BARE BACk...its the kind u cannot wear bra de..i turn out ok with it but in the end i bought the shirt cos not enuff money!
Saw a lot top i wanted to buy la!! i shall save up money n go out shopping frenzy soon...roar! I wished i've gt money for liposuction though..My tighs are fricking fat!! not proportional to my body...argh!! n i nid a new bag...a new tote i think..Saw one really nice at fourskins at heeren..budden...no money!!! sadden...
then go home rite..gene n i hanged out at the carpark near my house instead 1st
he rided ard the carpark and made me take pix of him..only one turned out nice..haha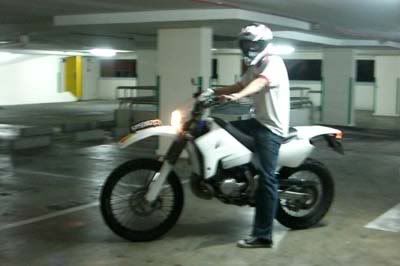 shuai rite..lalalala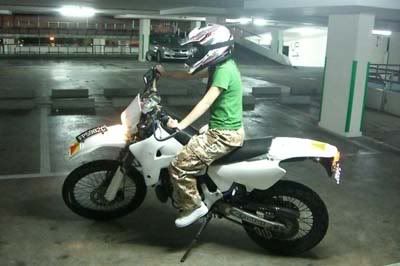 my bike k!! i wish i had though...but i don't look nice on a scrambler!! i look so small on one!! n i can't touch the ground with my feet without tilting the bike!
If i ever get a bike license, i tink i'll get a vespa..u noe those scooter like bikes...quite cute wad..but if i get a car license..I'LL FRICKING SAVE FOR A MINI COOPER!!
NOw i really have to go slp..it's fricking 2am n i nidda wake up at 6plus!! stupid lesson start at 8!..maths lecture in the morning...can die..bleahz