I feel darn broke now...spent loads today...
anyway...surprisingly, none of us was early! haha...but papa reach 1st among the 5 of us n i was 2nd...not the lastest! wahahahahahahaha! desiree was...hehe. headed to city hall 1st cos cher n i wanted to check out the adidas n puma shop at citylink n marina sq.
Makan-ed at TCC n i decided to test my cam i gt...muhahahahah. 6.0 megapix + anti shake but it's a sucky cam because of the tdious process to charge it n transfer file frm it...i'll get pix to depict the situation..
so anyway...i took tis pic of papa n mama... but regret ltr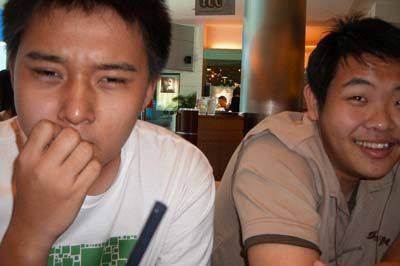 cos papa n mama looked screwed!! so i kept my cam n decided not to take it out anymore. Anyway...i had the macaorni gratin...so nice...so cheesy! n i actually ate
tomatoes
!!!
frenz of mine noe perfectly well my dislike for tomatoes. In fact, at the mention it i'll foam in the mouth, collapse on the floor n suffer stroke. Nah...jus kiddin...i jus dun lik tomatoes but today..being bo liao...i decided to nab some of desiree's tomatoes from her salad
[lik me...she's doesn't eat them too!]
n to my surprise! i still dun lik 'em .."haha"
n i finally bought a new hooded jacket! not from adidas but frm puma n it's white...see!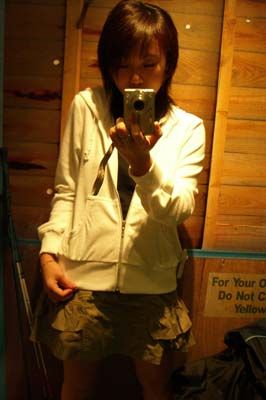 ya ya...zi lian...so...who cares...i look gd...or at least my hair does...haha! n Puma's fitting room are damn cute. I gt into the golf course room...which looked lik tis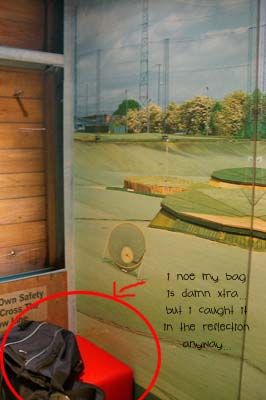 can't take the full span of the room cos i have limited space n ppl will tink i'm siao is i actually stand outside n take the full image. The one next to mine is a library if i'm not wrong. Anyway...the lovely jacket only costed me $75...almost half the price of the adidas. soft Cottonty material...i like...hehe
Marina Sq bored us so we decided to head for town. Come to think of it...city hall is still in town area rite...oh well...we headed for orchard then. And as the very bo liao me...i decided to use my came despite the earlier episode of lousy+pathetic photography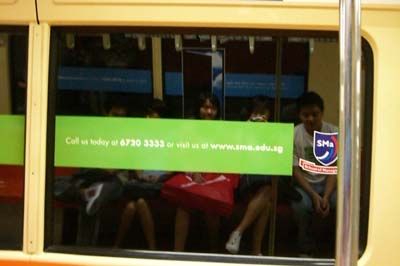 frankly speaking...i got very irritated with the SMa banner stretching across the window...cos i can't take a nice reflection pic. Either they ban banners lik dat or shift it higher...muhahahahaha. If they hav to shfit it higher...they have to shift it lik damn close to the top of the window..becoz of tall ppl lik cheryl...so i tink they mite as well jus remove the whole damn banner from the window. Wad bout me being selfish!? no i'm not. It's not jus for photography purpose but think for the kids! yes...kids! i bet ya rmb very well u'll always go peeping out of the window whetehr there's a scenery otuside or not n being fantacised by the mvoing images. So do u want the poor kids' view b blocked by stupid banners? dun ruin their childhood.
OH! i finally gt my fone gMask-ed!!YES YES YES!! yup...we were at cine n i saw the the gMask booth. Rmb-ing mama still owes me smth, i drag the her to the booth, with the others following n sure enuff it was a long process..i tink we hogged at the booth for lik 1/2 an hour with cher n des disappear in between to buy clothes n famous amos cookies. in the end...i decided on glittery black wrap with transparent+pink diaminates ard the external screen outside. Guess how much it cost...FRICKING $200! so papa volunteered to pay part of it too! but out of the 200 i forked out 50...i hav my conscious ok n i felt remorsed having the guys pay for everything.
Btw...having to leave my fone there...the nice lady lend me a fone to use...AND! it was disgusting N3310 with naruto wrap..EW! n b4 that i was still luffing at mama for using rather ancient 2210. i was fucking embrassed to take the horrible thing out...good thing sms and calls din come in fast or regularly...haha. Not forgetting. Mama reminded me smth. Papa was withdrawing $$ to pay for my fone wrap then mama whispered to me..
"did u get anything for papa last yr?"
then it suddenly hit me...
I DIDN'T!!
in fact...mama din get anything better. Last yr, cher, des n i shared money to get her a pathetic box of dove amichelli n tis yr i gt her a 45 bucks bag. But and they jus forked out lik 75 bucks eac...i'm grateful to hav great pals lik them...can i weep *sobs*
Anyway...is it that mos guys are
neoprintphobic?
cos as we approached the neoprint shop on lvl 2...ben n gerald seemed to disappear...actually they tried to escape from the fate of neoprints but aft being whined by des n i
[actually i did mos of the whining]...
they both gave in...MUHAHAHA! the power of whining..hehe! but they were damn "good" can...they din smile for every shot n acted cool....BAHZ!!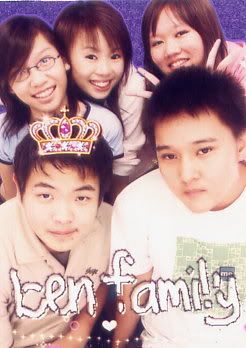 my fave among the 4 pix! is lik cher n i look siao [totally us] n es is the guai guai nu hai. it wud have been better if the 2 guys were smiling..cos in fact...they are both very crazy ppl. Dun ask me wad is the crown doing on mama's head...haha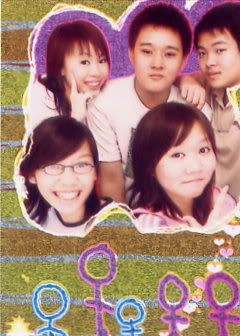 see the 5 stick figures below...it actually represent us la. With ben, cher, me, des and gerald. In case ya curious why the 3rd figure...which is me [cos it's the shortest among all] is blue...cos initially...I'm the SON of ben family...hence my alias...benSON...haha. but cheryl 4gt n painted me pink...which mama corrected her so i'm blue..hehe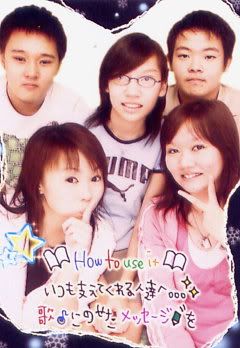 i jus realise i look lik someone famous in this picture.........
dun i jus look lik the ju-on in tis poster! haha! it's lik i'm wearing white n the ju-on is white..my eyes look lik i put eyeliner...which i din n the ju-on has thick black eyeliner. From now on i shall b known as
Ju-on Ze Brat
. Hmm...somehow it sounds damn cool...u noe lik
Leonardo Da Vinci
or
Ludwig Van Beethoven
. Actually i can make it
Ju-on Da Brat
...cos
Ju-on Van Brat
sounds funny..nvm...i'm zi-high-ing...haha. Oh...i jus realise Gene is in the poster. Actually i realise long ago but i notice smth else. In case u're wondering wad i'm talking about, Gene is the big black hairy thing on the top right part of the poster....YES!
KING KONG
! n the king kong is smoking a cigar...damn act secret society lao da can...haha!
ben n gerald's reaction were lame.
"WTH IS O'neal doing dere!?"
*starts luffing non stop*
i tink they mite have gt them interested to watch the show..maybe i'll ask them along...haha! YES! i wanna watch scary movie! i noe it's the stupidest movie trilogy on earth n winning "the worst movie" in oscars but i still wanna watch it...lol.
APR 14th!!!

anyone interested pls ask me along!!
There was 4 neos in total but i decided not to post the 4th one up cos nobody's smiling, i look lik a total bitch, cher's n ben's eyes are way too small, gerald look too zhuai n i'm afraid ppl will beat him up aft seeing the pic...haha! jus kiddin...it's not that bad but i'm still not gonna post it...hehe
Went home rather early [is lik 8+ early...i tink it is] n then...i gt a call from gMask tht my fone is ready n the lady is sending it to my house...talk bout excellent service...haha!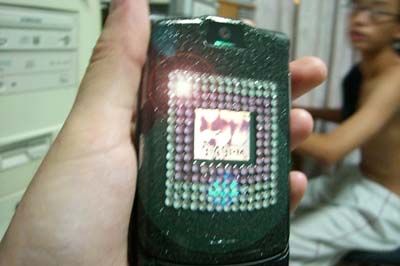 I tink it's damn nice. of course the photo isn't that good but trust me...the real thing looks better..even my bro is memorized by it. Oh ...it was only when i post up the pic did my bro realise he's in it as well...half naked...ew~ n i tink he looked rather beng here though...haha.
weee~ i love my fone i love fone...credits to great pals ben n gerald...hehe