Finally went out with cher n jaz again. Well...non of us was on time though..haha! jaz was latest n we ended up meeting her at J8. and we had chocolate Fondue for brunch! Weee~ . 30+ bucks for a few balls of ice cream, few selection of biscuite n fruits...but it was still nice...well...expected of haagen daz wad [reminds me of the time gene n i had ice cream n costed me 30 bucks..dammit]

For now..i shall make u salivate at the sight of the fondue...aww~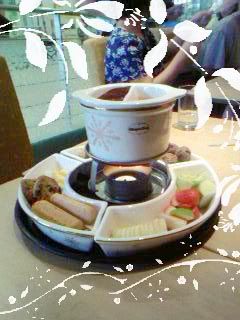 yes yes..i was getting bo liao...but anyway..other than chocolate..there's also strawberry dipping as well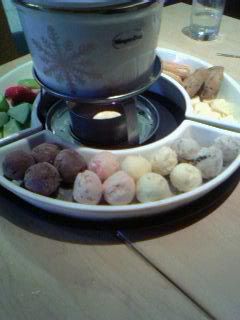 balls of ice cream! chocolate, strawberry, cookies n cream aNnNnNnD MACADAMIA NUT~ aw~






and and and..the chocolate hardens upon touching the ice cream




sponge cake, sugared butter cookies, chocolate chip cookies n chocolate egg rolls


wooo~ strawberries! but i felt so cheated...cos it looked so nice n sweet but when i sank my teeth into it...ew...SOUR!
oh yea...i nearly 4got bout th subject of this entry. Jus b4 the fondue came, a family of 3 came in n was seated next to us. The auntie [note..i dun use lady here] was lik complaining non stop to the manager going lik
"She jus walked pass us n din bother to attend to us!"
[stupid..can't u see they were bz *rolls eyes*]
and things lik
"i dun expect service lik that..the last time i was at the other branch...blah blah blah..."
and so the manager kept apologising n said "we're so sorry bout that so why not we offer u 3 scoops of complimentary ice cream..." and almost immediately n uncooly, the auntie jus said
"if thats the case it's alright then"

I KNEW IT! b4 she said that i was telling the gals "i bet thats wad she's aft" . cos i've seen many of such cases in greenhouse. well, aft dat she still didn't keep her mouth shut so we had to listen to her blaring...zzz

btw..jazreel totally screw up today.It's either her mouth has a hole or smth else happen..haha! Look at the mess she made!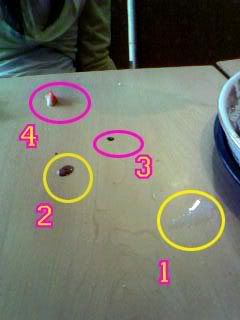 1] she dropped a ball of macadamia nut ice cream..thus the small puddle of melted ice cream dere

2 and 3] drops of melted chocolate

4] she was biting into the strawberry when the other half dropped onto the table

not forgetting she kept dripping chocolate sauce n strawberry sauce on herself..maybe she tinks she's not sweet enuff >_<
aft dat..NEos!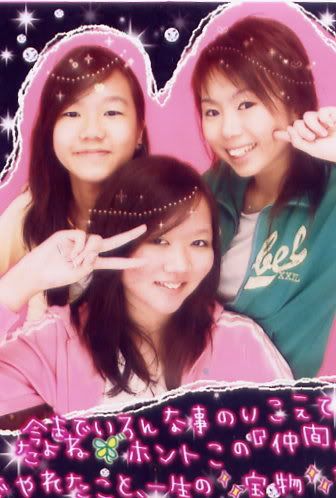 i jus realise i hav good hair day today..and my hair is brown..haha!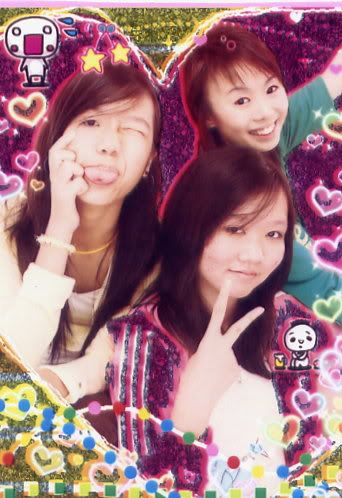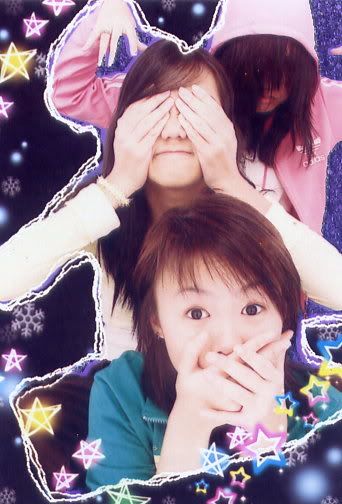 dun b jealous..my eyes or rather..the pupils ARE big...haha! so i do not have to wear special contact lens to make my pupils big..lalalala~

we gt sicked of J8 n headed for town instead. Finally ordered my customized shoes...costing me $39 bucks...but i tink it's rather cute...with the cows on it..haha! saw laods of stuff i wanted to buy...but i nidda save...dammit...my acc has not hit a k yet...zzz
oh well..i shall list down the stuffs i wanted to buy...b4 poly starts!
- V3i !! yes..i wanna change fone b4 poly! maybe i shall psycho my dad to help me pay 1/4 of the price..muahhaha
- pink shades from some shop in cine [jaz said i look pop-starish with it...crap..but i lik it..haha!]
- sling-cum-shoulder bag
- Tees n tops!
- white overall skirt
- velvet beret / artist hat from heeren
and the grand total comes up to ard 700+...with the fone in the lead as the most costly. $598 for just the fone, $398 with upgrade...but i can only..upgrade my plan in MAY! dammit!
oh...i missed out something...i wanna highlight my fringe ash blonde too! i tink it's damn cool. but i have to pay for it cos i can no logner go to my cousin's for free colour treament without my mum flaring at me..zzz. ya ya...stop telling me that's a boy's colour or i'll look lianish. It doens't matter if it's boy's or gals colour n who cares bout lianish...i'm not lian n ppl are telling me i look lik one...hw can i b when i'm so goddamn innocent..haha!